We are glad to announce that pretty soon Ruby Conference BY will take place in Minsk. And Rubyroid Labs Team has played not the last role in it. In cooperation with SPACE we are the official organisers of the conference, and we can't wait to share all the exciting details about it with you.

We love to support Ruby Events in Belarus and this is a great one to be a part of.
The conference will take place on April 24 in the heart of Minsk. This time the event can boast of a really prominent list of speakers, including top developers from the United States (Steve Klabnik from Mozilla), Japan (Koichi Masada from Heroku), Belgium (Laurent Sansonetti from HipByte) and plenty other great speakers from Belarus, Russia, Netherlands and Poland. And don't forget to meet Ruby Hero of 2015 – Jeremy Evans. The one day event will be packed with great lectures on all the most hot Ruby issues.
Check our infographics to learn more.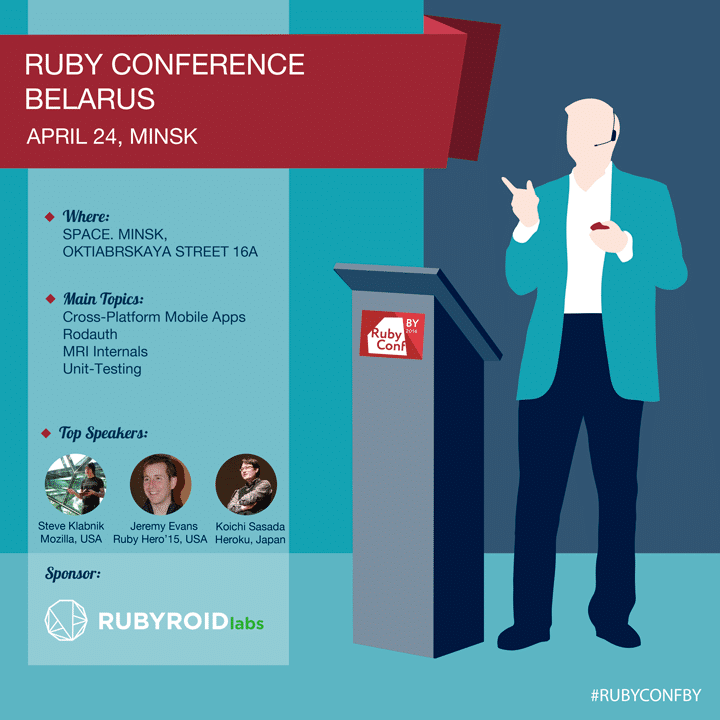 We are so excited about the event! Hope you are too. See you there!
Questions? Comments? Let's talk about them in the comments section below.
We are sorry that this post was not useful for you!
Let us improve this post!
Tell us how we can improve this post?