You might have read and heard a lot about outsourcing software development to Belarus, and are asking yourself why companies do that.
The first answer that comes to mind is that it's cheaper to hire a developer in an Eastern European country like Belarus than, say, in Western Europe or North America. But that's not the whole story.
No Eastern European country is the same — and none offers as many benefits for offshoring as Belarus. Keep reading and you will learn why.
Price
Yes, the price tag is the primary factor for outsourcing software development to Eastern Europe.
We frequently check hourly rates for our main sector, Ruby on Rails development, in the international B2B catalog Clutch. On average, one hour of development in Belarus costs at least 2–3 times less than in Western Europe and 3–4 times less than in the USA.
For a more diverse picture, you can compare Ruby on Rails developer hourly rates in Belarus to another popular offshoring destination: India. Some Indian programmers offer work cheaper than their Belarusian counterparts, while the upper margin in India is 1.5 times higher.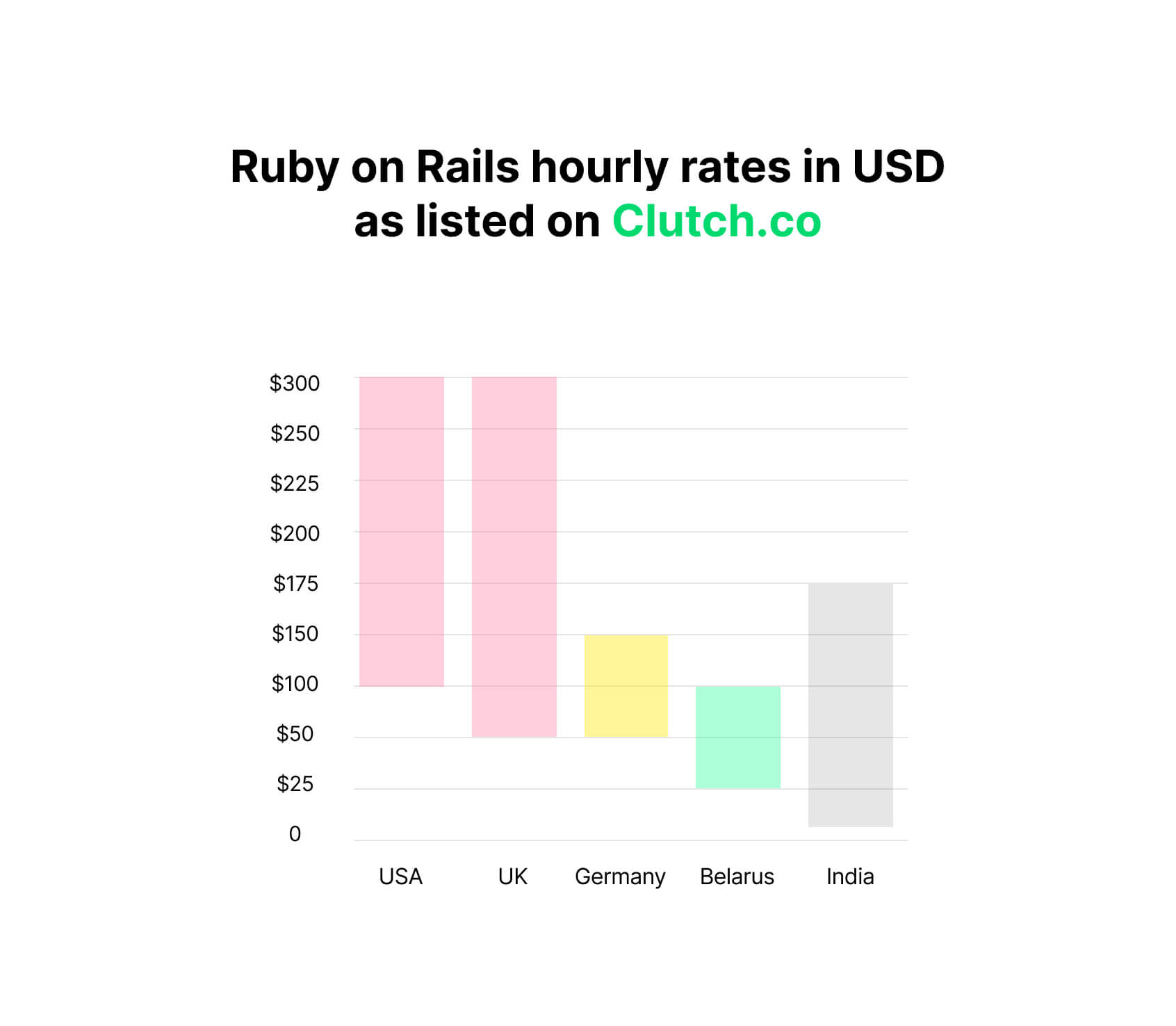 But what about Belarus's Eastern European neighbors? Most of them, like Hungary, Latvia and even Russia, will charge you more, according to this report. Belarus offers the third lowest development rates in the region, right after Moldova and Ukraine.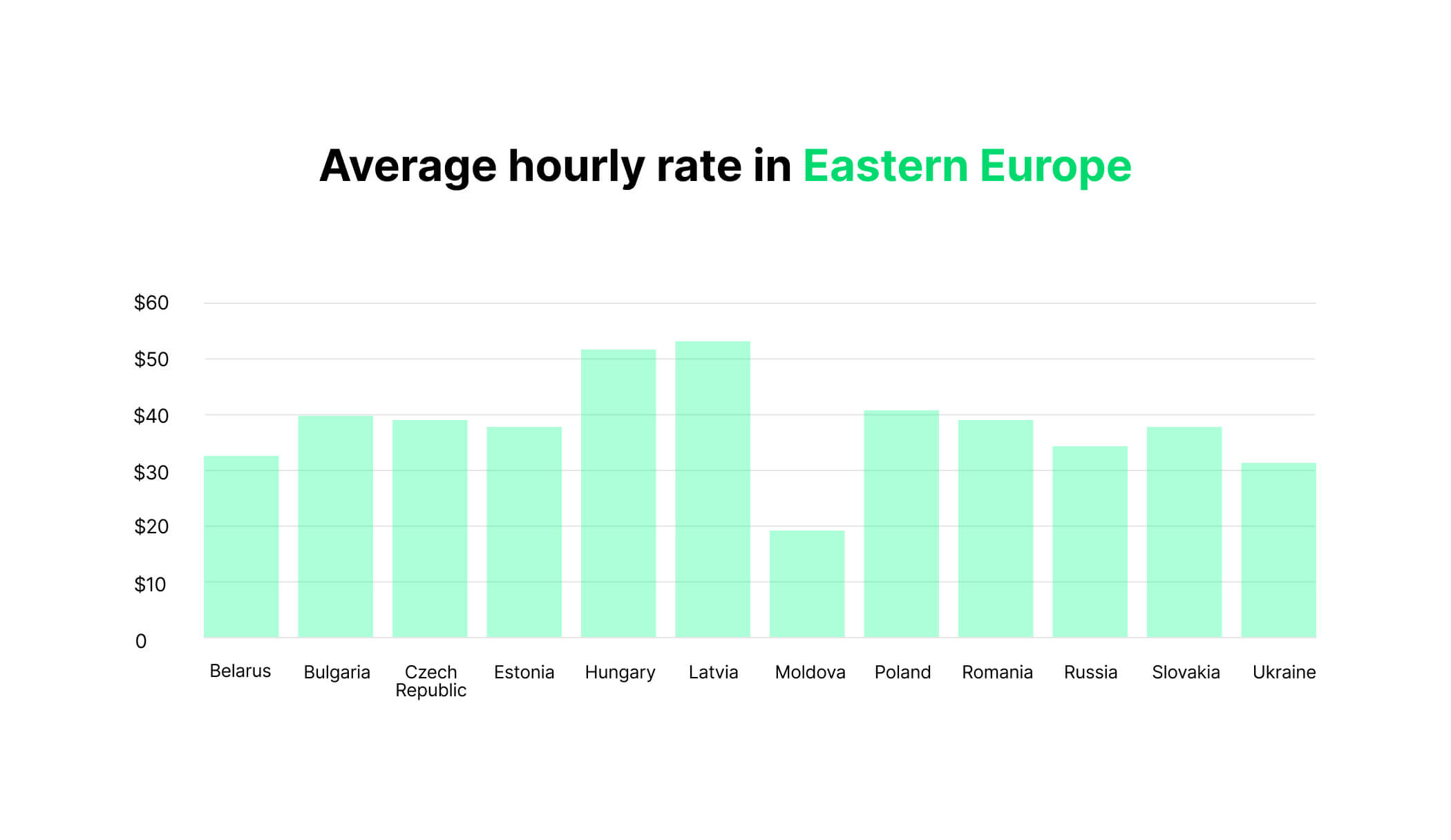 Source: SourceSeek
There are two reasons why Belarus has been able to offer prices so low. First of all, the national IT industry enjoys generous tax cuts. Secondly, the cost of living is much lower  than in Western Europe and North America, and software development prices reflect that.
Supply of Developers
Another reason why North American and European companies outsource to Belarus is that they struggle to find relevant talent locally.
Digital business in the West is booming. But traditional companies are also increasingly embracing technology, particularly due to pressures caused by the pandemic. As a result, the demand for software experts is outpacing the local supply. Consider these three facts:
In the US, computing makes up two-thirds of projected new jobs in STEM (science, technology, engineering, and math).
69% of US employers are struggling to find skilled workers. Skilled IT positions are among the top three hardest roles to fill.
Over half of job ads for tech roles in the UK  remain unfilled for at least two months. This includes systems consultants, senior technology consultants and senior back-end developers.
For comparison, look at these four facts about IT in Belarus:
Around 2.2% of the economically active population works in IT.

60.5% of IT professionals work at offshoring companies.

The number of IT professionals has grown from 31,000 in 2013 to 105,000 in 2019.

The IT sector makes roughly 7.7% of the country's GDP.
In addition, Belarus has its own successful IT products such as the MSQRD app acquired by Facebook in 2016, popular multiplayer game World of Tanks, messaging app Viber and document flow SaaS PandaDoc.
So what does this mean exactly? It means Belarus has enough software development talent to cover domestic needs as well as the needs of businesses worldwide.
Education
High-level engineering and language education has given a platform for IT talent to grow in Belarus.
The Soviet Union had many disadvantages — but it also left some decent heritage. Pushed by the arms race, the Soviet leadership placed a lot of emphasis on teaching science and engineering and enhancing the prestige of related professions. Belarus has been able to pick up the baton and adapt it to the modern world.
Belarusian university entrants can choose from 70 IT specializations. Every year, more than 16,000 people graduate from universities with a diploma in STEM, which makes up about 25% of all college graduates.
But international collaboration isn't just about writing code. You need to be able to understand your client's requirements, discuss tasks and write reports. The location of Belarus in the heart of Europe has boosted partnerships with other countries, motivating people to learn the modern lingua franca, English.
At Rubyroid Labs, for example, we make a point of constantly improving English across the team through weekly classes with native-speaking teachers. Our clients can talk directly with React Native and Ruby on Rails developers, designers and testers working on their projects.

Culture
Eastern European developers have specific business-cultural advantages. According to this report, they:
stick to the 'do it right approach' (applying the best engineering practices and solutions from the start)

are highly averse to technical debt
use a straightforward communication style and give accurate and unfiltered responses.
As you can imagine, this attitude can help you cut potential risks as your project grows. In the short term, it can help you keep a clear picture of where the development process is going.
Reputation
Global corporations hiring remote teams in Belarus and international business ratings prove that Belarus is worth considering as an offshoring destination.
You will find Bank of America, Deutsche Bank, Samsung and eBay among the companies outsourcing software development to Belarus. Large international corporations have established more than 50 research and development centers in the country.
And it is no coincidence that several Belarusian developers and companies with a development office in the country make the Global Outsourcing 100 every year.
Location
Finally, if you are in Europe, geography is another reason to consider Belarus for IT outsourcing.
Belarus is your European neighbor. This means you can easily visit your outsourcing partner's office or invite their developers to visit you. You don't even need a visa to enter the country for up to 30 days.
The proximity also means that you are unlikely to struggle with the time difference between your office and your partner's. 
But even if you're farther away, time difference won't be a problem when you're working with Rubyroid Labs. We have long learned how to adapt to our client's business hours, be they in Munich, Sydney or Toronto.
A Final Word on
IT Outsourcing to Belarus
IT outsourcing to Belarus isn't just a way to save a few bucks. You can also find developers with scarce skills and strong academic background.
Moreover, you can discuss your project with programmers directly, and not through a local project manager, an agency or an interpreter.
Many large international companies use Belarusian developers. Smaller players see that and follow suit.
Finally, if you operate in Europe, the similar culture, proximity and comfortable time difference will be a huge advantage.
We hope this post has helped explain why companies outsource software development to Belarus. If you want to do so too, consider working with Rubyroid Labs. We have been building web and mobile applications for clients from all around the world since 2013. Just let us know how we can help.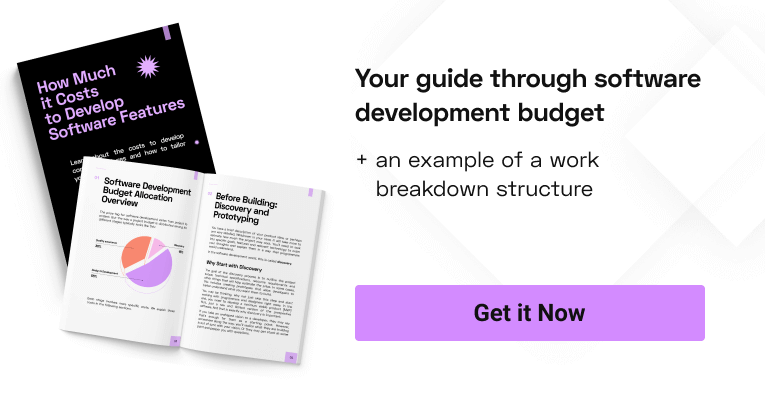 We are sorry that this post was not useful for you!
Let us improve this post!
Tell us how we can improve this post?