Team
Full-stack developer
Project Manager
Noticeable Results
KyKy is the biggest independent media web portal in Belarus. It aggregates articles from the best authors of the country, who reveal the most relevant topics for their readers.

Increased retention rate
40%
faster website performance

Bounce rate reduction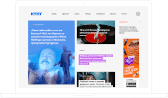 Key features

Constant app stability

Libraries updated

HTTPS connected

Performed DataBase optimization

Comment section added
Challenge
Founders of KyKy.org faced multiple critical challenges in their news portal development. From time to time, the application crashed unexpectedly. It also suffered from constant brakes and freezes which is unacceptable for the media platform. Moreover, there was no technical support and updates of the most critical elements for a long time. Rubyroid Labs had the challenge to figure out all current errors and find the most efficient way to fix them. It was necessary to maintain the platform in order to prevent new bugs and issues in the future. KyKy.org has an average monthly traffic of 1,5 million users, so each bug and lack of performance is critical.
Solution
After solving the most critical issues, Rubyroid Labs team moved to the development of the new website features. Our team added Google Analytics, Advertisement Banners and "Repost and Views" metrics to the articles. Moreover, there was an ad tracking dashboard added to the admin panel. Such features as Social Network authentication and the possibility to insert video parallax into the articles were added as well.
Constant app crashes
Added "Monit" internal monitoring system and external monitoring, optimized configurations.
No update
We were not able to update libraries because of the old version of the operating system (Ubuntu 12.10), so we updated it.
No HTTPS
Updated NGINX, set up "letsencrypt", performed an audit and connected HTTPS.
App freezes and brakes
Performed DataBase optimization, we updated language version, moved to the better server.
Comment section does not match the Belarus law
There is law in Belarus, that all commentators must be recognized by mobile phone. Before, the customer used "Discus" which does not have such a functionality. Our team created own comments section using the popular open-source solution. Also, we added required SMS auth after user registration.
Communication
Our team shared updates with the KyKy team as each new feature or iteration was performed. All the tasks and time were tracked in the Open Project. We used Slack for the meetings and Telegram for urgent communication.
Results
Since KyKy passed over the critical difficulties in the project, they witnessed a significant increase in website performance, user retention and satisfaction rate. After completing the main tasks, Rubyroid Labs continues to support online magazine development as well as to add new functionality and maintain the current features.
Results
How It Looks

Robust KYKY.org home page.

BrowsSet up ads by placing Adsense codes on the site.

Example of parallax in the article.

Featured articles and comments section.




Hear from the Customer

Alexandra Romanova
CEO Mint Media
The team's work produced excellent results through simple, effective solutions. They have ensured that its traffic can grow, that it runs smoothly, and that the work is completed quickly and professionally.
Browse Other Case Studies