Team
3 developers
1 UX/UI designer
1 markup developer
1 project manager
Noticeable Results
The Platform includes more than 50 modules, complete with analytics, reports, booking, accounting and AI/Machine Learning recognition - making it the most convenient and reliable business automation in the industry.
100+
partners joined the system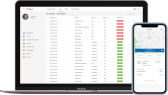 Challenge
The founder of Rocket Wash was looking for a car wash CRM development company to create a convenient, fast and reliable car wash management software, that will automate all business processes beginning with attracting customers and registering orders to calculating net profits. The idea was to create a stable, secure and simple CRM system suitable for all types of car wash businesses as well as a mobile app for car owners.
Since 2013 we are developing Rocket Wash to provide service to three interested parties: For Car washes - convenient, easy and affordable program. For Car owners - simple and understandable mobile application without unnecessary bells and whistles, so that they can sign up for your car wash in 20 seconds. For Partners - understandable system of remuneration and high level of earnings
Solution
Since the project had to be extremely secure, stable, and scalable, it was decided to split the auto CRM development process into 3 phases:
— Development of technical requirements
— Development of pilot demo-version and attraction of demo users
— Improvement of the application in accordance with the technical requirements and demo users reviews
The Rocket Wash application incorporates features that match the best practices of the solutions on the market today. For example, an improved new customer's sign-up process, enhancing the Rocket Wash training system, an admin panel and a visual representation of orders.
The challenge: guarantee scalability, fault tolerance, and safety of the system.
Solution: Rubyroid Labs used a multitenancy approach using separate schema for each organization.
The challenge: create new reservation in 30 seconds or less.
Solution: integration of Elasticsearch for fast and convenient client lookup. Automate most of the calculations in the reservation popup, improve UX to minimize manual actions count.
The challenge: stable and efficient notification system via SMS.
Solution: integration of 5 different SMS gateways. A specific gateway is selected depending on the recipient country.
The challenge: supervise employees and prevent theft.
Solution: integration of video monitoring with OCR for automated car number recognition.
Meeting
Daily Communication
Task Tracking
Redmine, Trello
How It Looks

A Handy Mobile App for Car Owners.

A complex management system for Car Wash business: including, web interface for business owners and a mobile app for clients.

Complete order management. Details about each order on one screen--client name, car model, status, and payment info.

In-App custom reports: Ability to build clear profit graphs using selected parameters--no special knowledge required.

Personnel management: All HR operations on one screen: payroll accounting, detalization, employee and role management.

Clients detalization: The system allows to build a graph to see client base grow.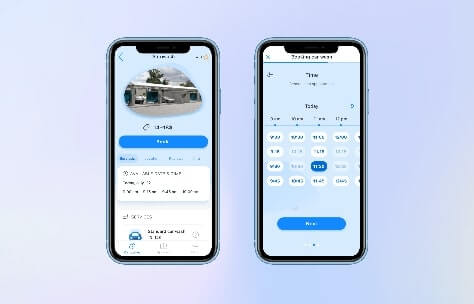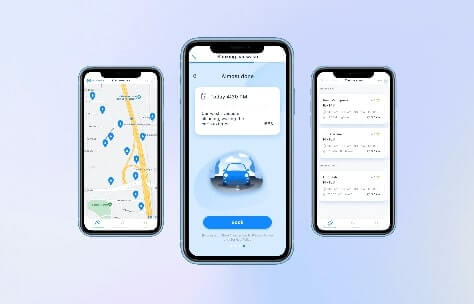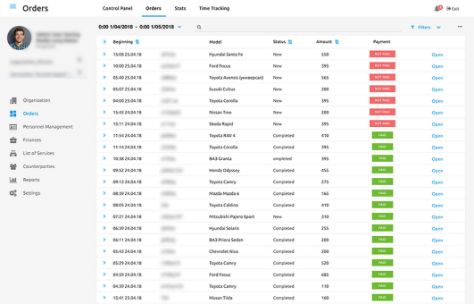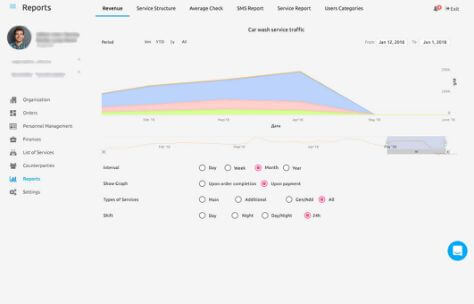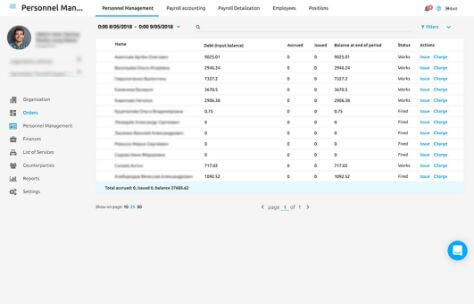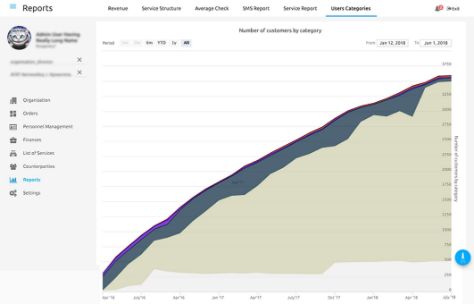 Results
For the more than 4 years since the project started, Rocket Wash has helped more than 100 car wash owners to automate their business processes, bringing their businesses to the next level with mobile registration and payments. With a custom CRM system, it became possible to keep business docflow readily available. Thanks to the implementation of the solution, some business owners observed an increase in profits from 40% to 350%. An advantage for car owners is that they no longer need to be concerned about the queues at the car washes.
Results
Hear from the Customer

Andrew Boriskin
Founder Rocket Wash
Rubyroid Labs has handled our project for more than 5 years. For all this time we have no complaints about quality, speed of development and communication. We are proud of our product and Rubyroid Labs team helped us to make this happen.
Browse Other Case Studies