Team
2 full-stack developers
1 iOS developer
Timeline
May 2017 — September 2018
Noticeable Results
According to a survey of our client's customers, there was a significant increase in customer satisfaction and daily usage from 2016 — 2017
Customer satisfaction
Daily usage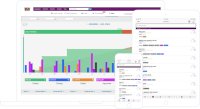 Challenge
Big Purple Dot is powerful B2B software. It includes multiple iOS and web apps which help real estate professionals easily manage their leads. The main goal in the beginning of our cooperation was quick scaling of the development team for new features implementation.
When we joined the project a big challenge was the legacy code of a web app which was very hard to support. For a mobile development we needed to rewrite the apps from Objective-C code to Swift.
Solution
Web
The client's first step was to interview our full stack Ruby developers. As a result 2 members of Rubyroid's team joined Big Purple Dot's development department.
During our cooperation the following real estate CRM development tasks were done:
Implementation of a buyer — loan manager document flow that included the following features:
— Ability of loan manager to create required document template
— Ability of borrower to upload required documents
— Ability of borrower to track his loan application progress
— Ability of loan manager to interact with borrowers on uploaded documents, mark those as accepted or leave error comments
— Encryption on all uploads
— Access management both for other loan managers and for co-borrowers.
Implementation of new version of loan manager's statistics page. These features included in terms of this task:
— Gathering data for the statistics report
— Filtering data
— Generating an interactive graphing of statistics data
— Taking part in team code review process
— Taking part in regular project lifecycle (debugging, adding functionality to existing features).
Mobile Apps
Later an iOS developer was added to the team.
As for mobile apps, we got them on Objective-C with Core Data implemented for offline working. The first task was to reimplement the whole project to Swift removing Core Data. When this work was done, there was a period of time for debugging, meanwhile we were changing all frameworks used in the code that were written on Objective-C to new analogues written on Swift. And finally we decided to add the Open House feature to the existing code with the possibility to work offline.
The Lender Connect app was connected with the previous one as it was the app for gathering lenders and their contacts. First we planned what the exact functionality should be in this app and then implemented it.
BigPurpleDot
On the App Store
Lender Connect
On the App Store
Communication
We had daily stand-ups (PST time zone) with the team of Big Purple Dot. During this time the whole team discussed the development plans for that day as well as the day before. This way works very good for all kind of projects including property management software development and other complex systems.
Communication
Slack
Google Hangout
Email
Task Tracking
GitHub
Dashboard in the office
of a client
How It Looks










Results
Today Big Purple Dot software is a leading provider in real estate management software. Users can manage their leads in a comfortable and simple way. With new mobile applications Big Purple Dot was able to enlarge its market presence and be more competitive in the real estate CRM market. By providing an elegant and comfortable CRM solution on iOS devices, they earned a great reputation among real estate professionals. As a result, after a year of our collaboration Big Purple Dot significantly sped up their growth and delivered new features to their clients.
+15%
customer satisfaction
Site

Website
Rubyroid Labs Team

Browse Other Case Studies
Estimate your project
Please fill in the form and our team will contact you as soon as possibleto help with the next steps
You can always contact us directly at [email protected]