With eCommerce taking its leading positions over Retail, online payments become a must-have feature for many types of business. But how to choose a payment platform right? Check the most popular solutions PayPal, Stripe and Braintree compared.
Selecting a right payment platform for your project is an important decision for any online store.
Top-5 Efficient Tools for Building Online Store on RoR
It defines the future user experience and the options you will be able to offer to your customers. A market is being saturated with all sorts of payment systems and it is quite easy to lose your mind picking up a right solution.
To make things easier for you, let's first cover what are the main parameters you should be looking at when making your choice.
1. Payment Methods
The first thing you should be looking at when selecting a payment method is what payment methods and cards it supports. If you already have a certain focus group, it might be a wise decision to do a short survey in order to study what the demand is. Among the most common options are ApplePay, Paypal
Basically, you are defining integration with which existing payment systems you'd like to have. Among the most common options are ApplePay, Paypal, AliPay and some others.
2. Payment Cards
Another thing that goes hand in hand with payment methods is the choice of payment cards. Obviously, you would as many options as possible to be available. But first and foremost you need to figure out what card types you can't go forward without. This would help you a lot to make the right decision.
3. Service Fee
One more thing you need keep in mind is how much using this or that platform will cost you. Usually, advanced payment platforms offer a choice of plans, so this shouldn't be a big deal. But please make sure you have some budget put aside for payment platform support.
4. Transaction and Refund Policy
It's also a good idea to check whether the payment platform is charging extra from your customers for transactions and whether it offers and refund options. The more your industry depends on customer satisfaction level, the more important these factors will become. For example, Braintree and Stripe will charge you 2.9% + $0.30 per any transaction. And PayPal will adjust the charge depending, whether it is a US or international purchase: 2.9% + $0.30 against 2.9% + $0.30.
5. Supported Software Platforms
And finally, when making your choice don't forget to make sure it fits that technology you are developing with. Even if you don't go for the most popular options, make sure there is an API provided via which the platform will be able to communicate with your solution.
Major solutions tend to support all the most popular coding languages. So if you decided to create an online store using Ruby on Rails, all three of our comparison examples, Paypal, Braintree and Stripe, support it.
Best Reasons Why Developers Love Rails So Much
Now let's have a look at a detailed comparison of Paypal Braintree and Stripe options.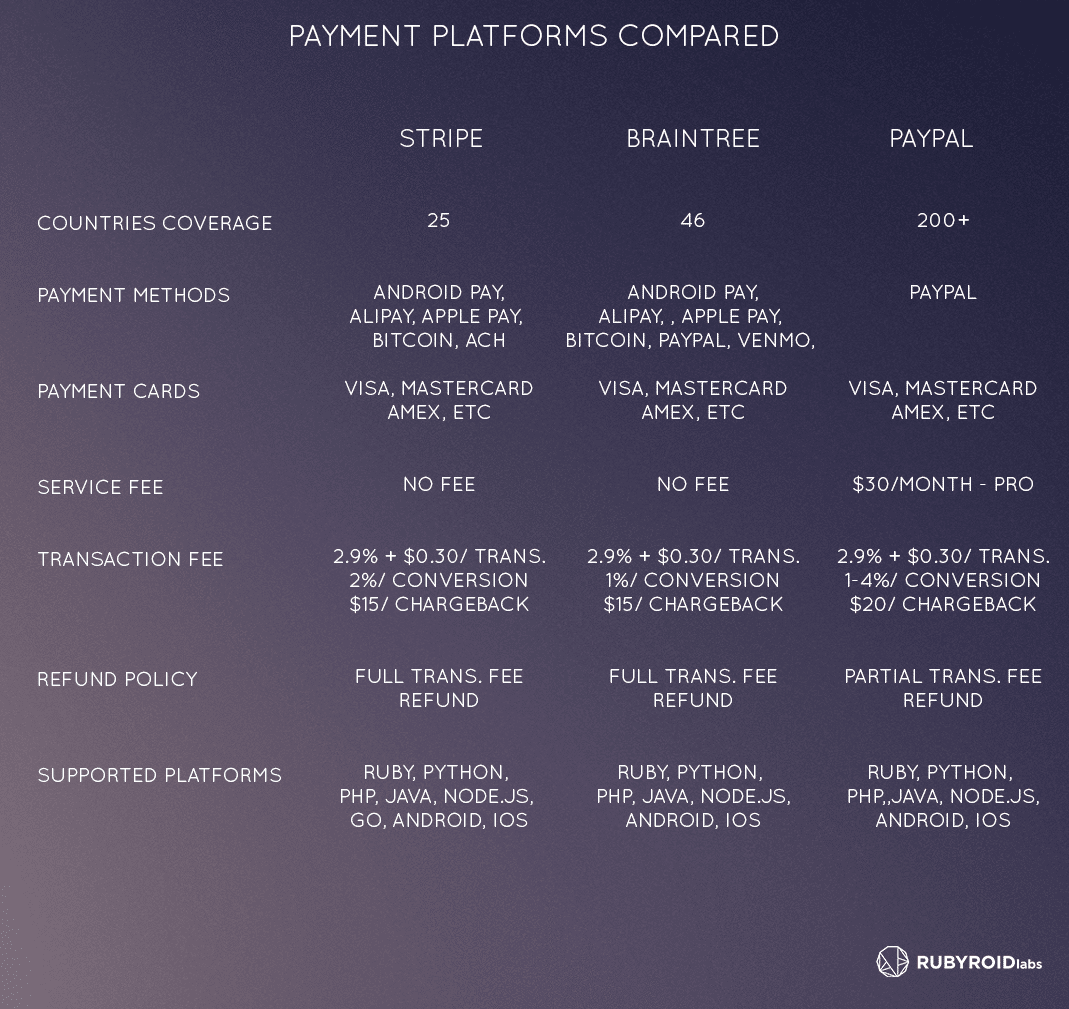 As you see, there are quite a few factors to look into. Basically, Paypal suits best for eCommerce solutions with a large geographical coverage. Braintree will offer most advantageous options for your customers and Stripe is the only one, that accepts ACH.
When you're going into details you will see what solution suits you best, but don't forget to take into account all the factors.
We are sorry that this post was not useful for you!
Let us improve this post!
Tell us how we can improve this post?