High Load Dev Conference sponsored by Rubyroid Labs has recently finished. It was a great and highly educating event, so we decided to share some results and additional materials on it with you. Find some infographics and a link to all the presentations inside!
If you were lucky to visit High Load Dev Conference, you probably have noticed, how many great professionals have attended it to share some knowledge and experience. High Load Dev Conference united:
260 developers from 52 companies
15 speakers from 14 well-known companies
10 volunteers
25 conference managers, Program committee and Partners
Altogether the visitor list split the following way: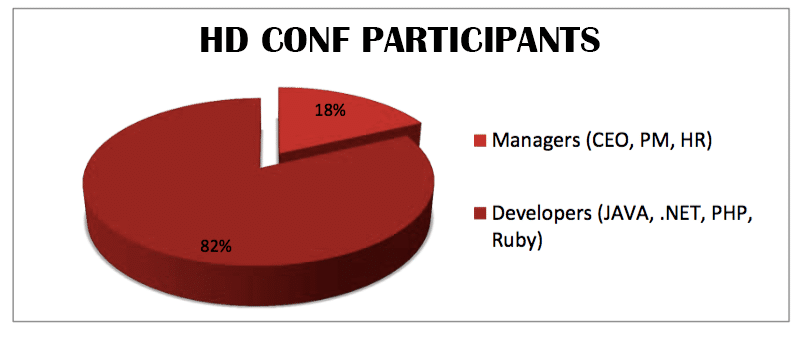 From August 25 to October 17, the website of the conference was visited by almost 10,000 unique users. During the active promotion 1,300 – 2,600 people a day visited conference accounts in the social networks. As a result 97,2% of developers, who attended the conference this year are going to come back in 2016.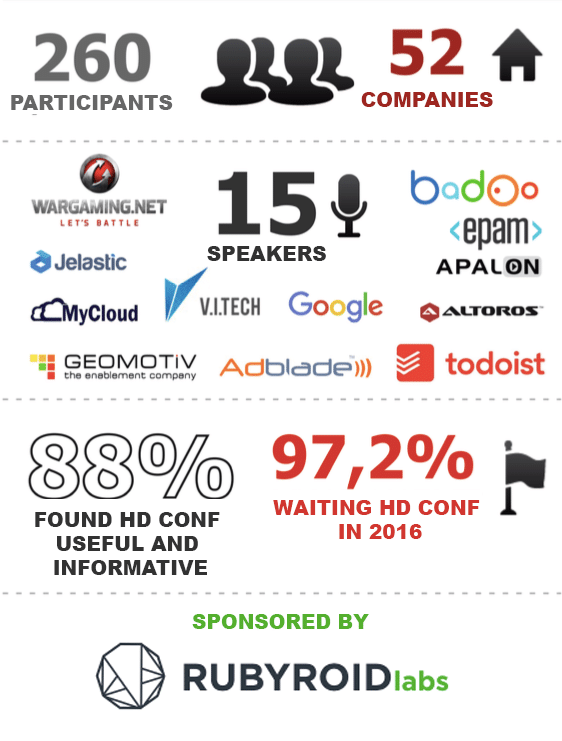 If you missed the conference this time, don't feel sad. Rubyroid Labs Team together with High Load Dev Conference Organizers made it possible for you to have a look at the presentations from it.
We are sorry that this post was not useful for you!
Let us improve this post!
Tell us how we can improve this post?