The year 2022 is nearing its end. Despite this year's challenges, we continue to provide Ruby on Rails development services to our clients.
In 2022, we made every effort to improve the quality of our services for our clients. Let's summarize all of Rubyroid Labs' achievements and good news from this year.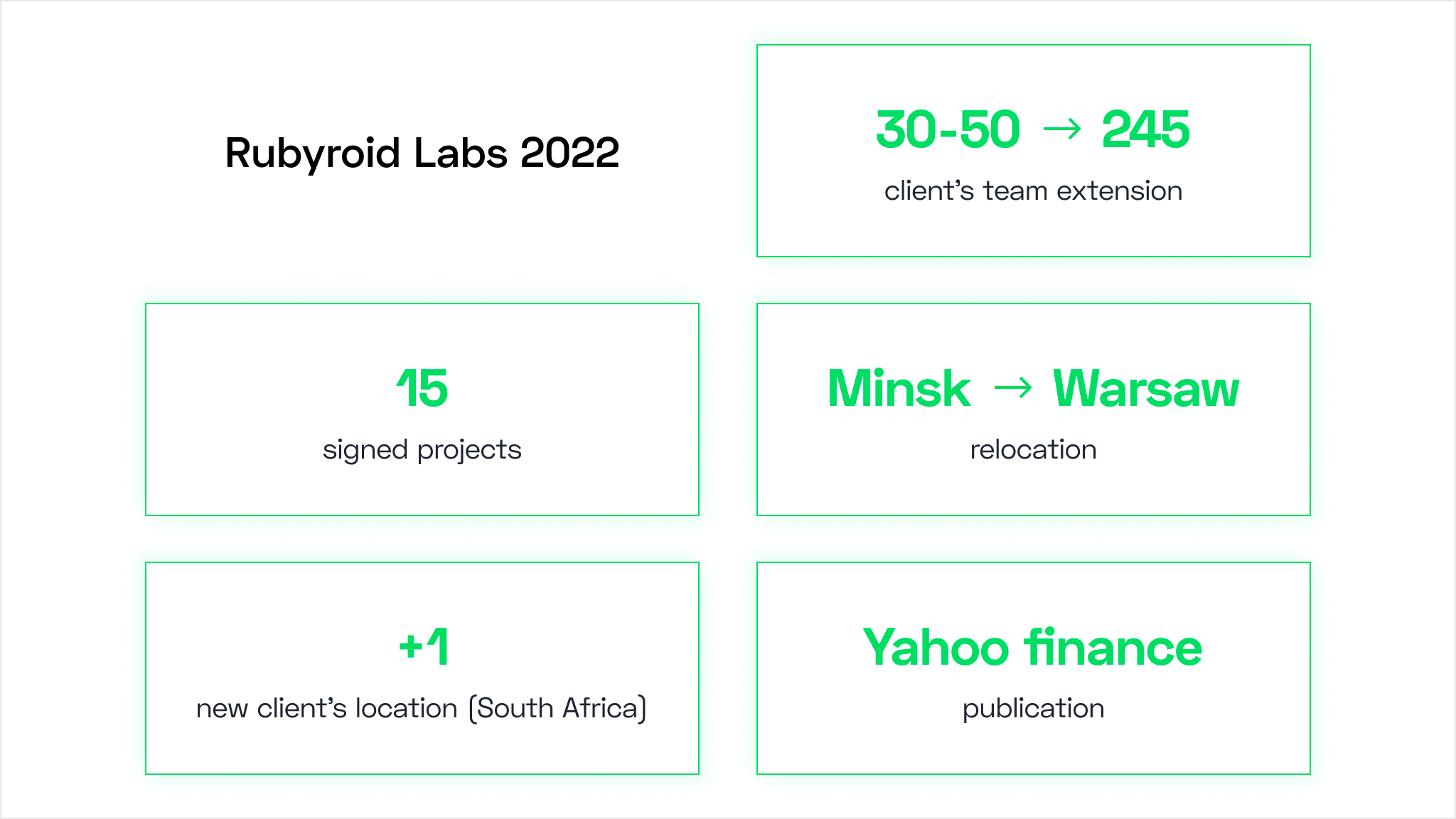 1.In 2022, Rubyroid Labs signed 15 new contracts. Among these are a CRM for managing tech industry transactions, a platform for learning Spanish, a booking app for real estate, and designs for websites in the fintech, healthcare, and construction industries.
This year, our team contributed to the development of the NFT platform, our first implementing in this industry. In addition, we are developing a wearable fitness device application with one of our clients, which is a new direction for us.
2. Rubyroid Labs facilitates greater flexibility in time zones and contract signing. Our headquarters has relocated to Warsaw, Poland. Our software engineers are based in EU countries (Poland, Spain, Portugal, etc.), Kazakhstan, and Belarus.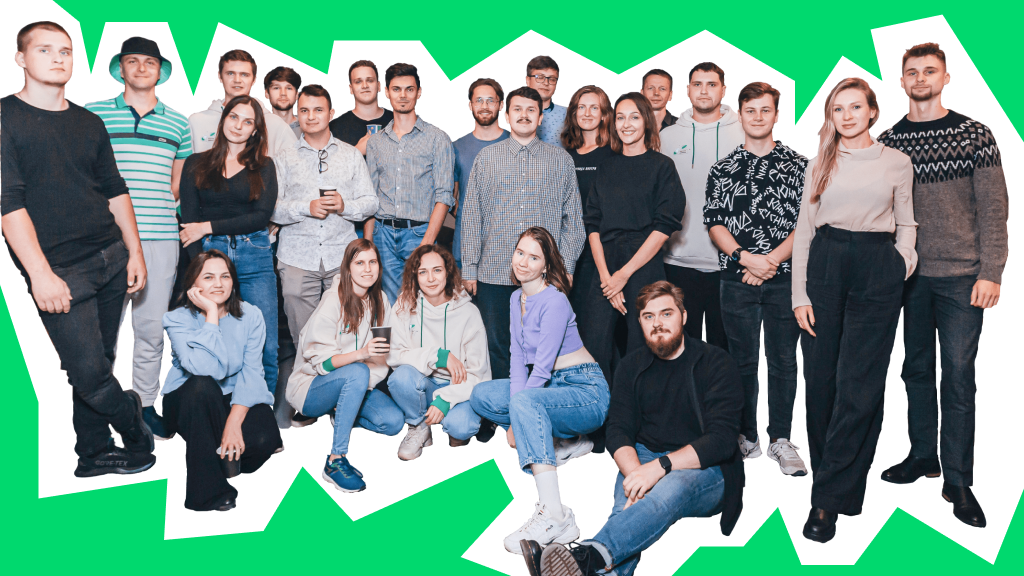 3. The development team size has tripled on several projects.
4. One of our CRM customers has joined forces with CoreLogic to launch a game-changing mortgage recruiting platform. This news was published by Yahoo Finance, and we are proud to have played a role in developing this solution.
5. Dronebase, a long-term client, has expanded its team to 245 people. We started working together five years ago, and they had 30-50 people on their team. We are delighted to assist them in growing and developing a high-quality software product.
6. Rubyroid Labs has been developing software for international clients for many years. Our client base has grown geographically this year, and we have signed our first contract with a South African company. Their request was to improve their website for house rentals.
7. In 2022, we have received over 30 positive (5.0) reviews on the Clutch. Clutch is an independent B2B catalog where software development companies can list themselves and receive reviews.
Clients rate companies in the following categories: quality, timeliness, cost, and willingness to refer. Each assessment is validated by the platform via phone or online interview. We are honored by this recognition and want to thank our customers, partners, and team for making it possible!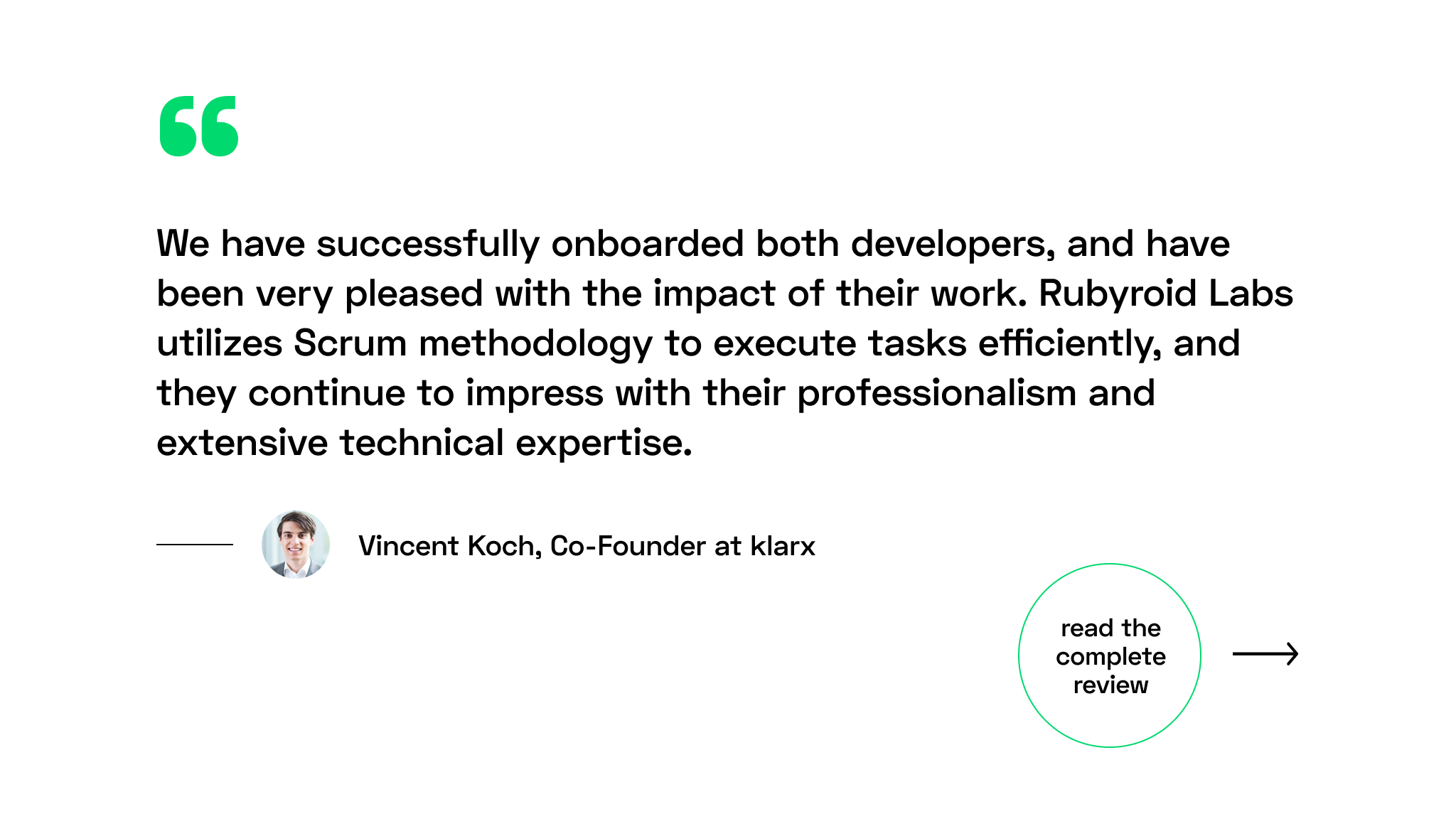 Rubyroid Labs is thankful to each and every customer and pleased to support your businesses with all of our efforts.
Now we are enjoying the holiday season and making plans for 2023. With everything we've learned and experienced in 2022, the coming year is going to be a blast.
Merry Christmas and a prosperous 2023!
We are sorry that this post was not useful for you!
Let us improve this post!
Tell us how we can improve this post?