We're happy to share another 5-star review of Rubyroid Labs. Chatchamp is a Germany-based marketing automation platform which helps e-commerce stores to increase sales and become more profitable.
How do they do it?
Using lead generation, retargeting and retention solutions, Chatchamp provides a link between e-commerce stores and their customers. It's possible to set up reminders about abandoned carts, sent confirmation and shipping messages straight to Facebook or WhatsApp. For business owners, Chatchamp offers deep analysis tool as well as various settings of marketing automation.
Rubyroid Labs helped Chatchamp to move to the new React.js front-end. Also, we optimized the database because of application rapid growth as well as added new features and maintained the current ones.
CTO of Chatchamp, Dominik Grusemann, appreciated the efforts of the team and gave Rubyroid Labs a 5-star Clutch review: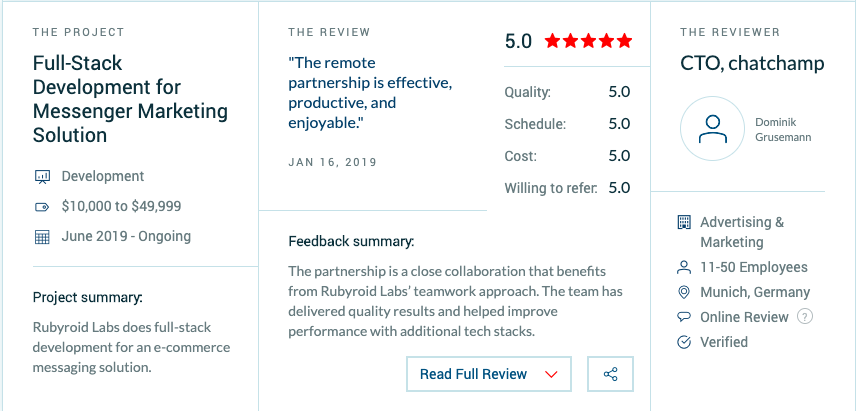 Dominik and his team continue to improve and develop Chatchamp's platform and our team happy to be a part of this process.
Don't miss "What you'll need to start working with an outsourcing development company" article, (free eBook included). Learn what do you need to prepare before start working with a web development agency as well as how to set up communication to cooperate in the most efficient way.
We are sorry that this post was not useful for you!
Let us improve this post!
Tell us how we can improve this post?