With a team of 33 highly skilled developers, we specialize in building custom websites and mobile apps, optimizing architecture, improving code, launching new startups and more. We also are experts in Ruby on Rails – one of the most popular open source web framework. We have 100% data security, meaning we are a reliable and trustworthy business partner. 
Our claims are not empty-we have real client reviews to back up our promises!
Our clients have left us reviews on Clutch, a B2B ratings and review firm in Washington, D.C. which connects businesses through a unique ranking and scoring process. Our reviews have given us a perfect score of 5 stars and the title as one of the leading web developers in Minsk!
Our CMO has a few words regarding our recent recognition on Clutch:
"We are very happy every time our clients leave some feedback on cooperation with us. It's extremely useful because it helps us to improve and deliver high quality services" – Alex Galesnik, CMO
We recently worked with a drone company for which we provided Ruby on Rails development services, and they have left us a review!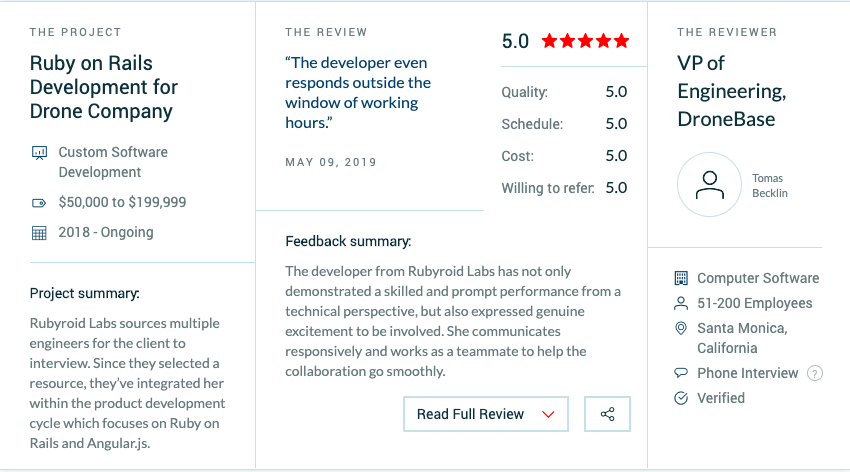 The VP of engineering for the drone company has said that we had excellent communication skills and we were very flexible!"The most impressive factor about the developer from Rubyroid Labs has been how excited she is to work with us. She even visited us for two weeks. Her enthusiasm has been much appreciated as Rubyroid Labs has helped us build a company."
-VP of engineering, drone company
This is just one example of our many successful projects, we just wanted to share one of our most recent partnerships!

We are also on The Manifest which is a business news and tips site which has posted us among top 50 ruby on rails developers!
Our work is additionally on Visual Objects, a platform for creative design firms which has listed us under development companies.
We want to give a big thank you to our clients who have made all of this possible! We love making your visions come true, and we cannot wait to keep doing it.

We are sorry that this post was not useful for you!
Let us improve this post!
Tell us how we can improve this post?