Rubyroid Labs Team is glad to announce that we have been awarded with Clutch Customer Review Award as one of the Top Belarus Web & Software Development Company in 2016. Based on the replies and estimates from our clients we have been given Clutch badge for perfect service. Get the details inside.
We have recently earned a spot on ratings and reviews site, Clutch, and have even had two very satisfied clients describe their experience working with us, so far. Clutch is an independent ratings and reviews site based in Washington, D.C. that covers top companies in web and app development.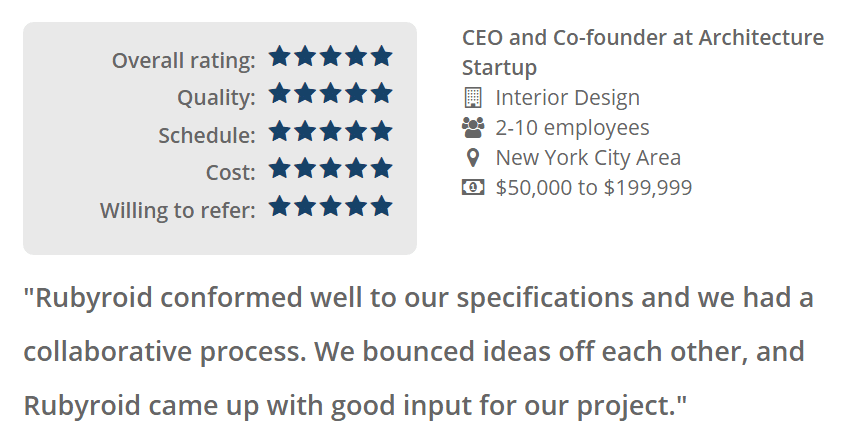 We are glad that our customers find it enjoyable to work with us. So do we! We are glad to help you with developing projects using Ruby on Rails, AngularJS, JQuery, MySQL and etc.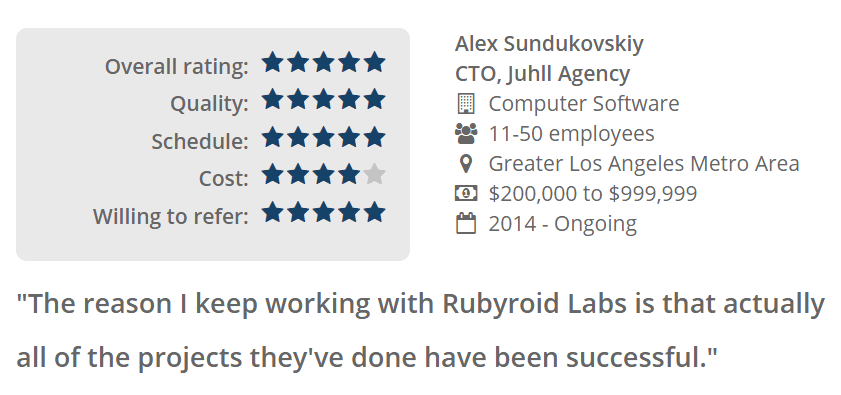 We're happy to report that both clients gave 5-star overall reviews, but our favorite part is the way each described their working relationship with our multi-faceted resources. In sharing their experience working with Rubyroid Labs, clients used words such as, "successful," "talented," and "excellent."
So if you looking for a trustworthy software development company for cooperation, drop us a line.
[UPDATE] We received the 3rd review on Clutch! 🙂
We are sorry that this post was not useful for you!
Let us improve this post!
Tell us how we can improve this post?