Building MVP is like making a foundation for your house. It is where you start from and what defines the success of the whole project. Many entrepreneurs face difficulties here though. So we decided to start a series of articles, where we will cover all the main steps one should go through to build a successful MVP and lay the groundwork for a successful project. It will be useful for those who have already gathered the required funds or are yet thinking about the investments. Let's start the journey now.
Step 1. Define a unique problem or unique solution
Any great journey starts with figuring out where to go. And any great product starts with a great idea.
The recipe for a successful product is either finding a unique problem that is not solved yet or finding a unique solution to an already existing and well-known problem.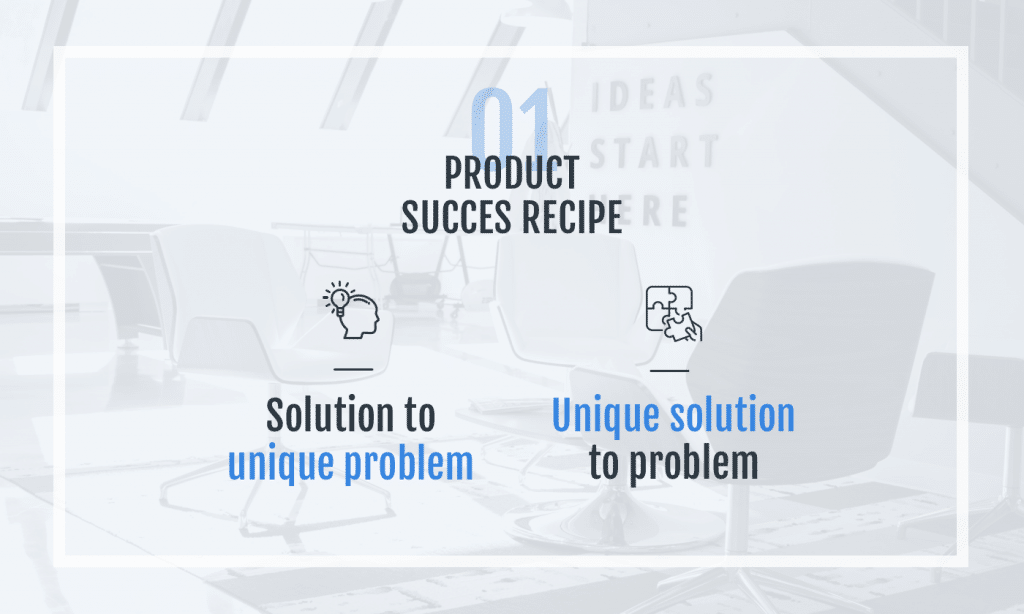 For example, Tinder's gap was solving the well-known problem of online dating being shameful, long and inconvenient by developing a mobile app, which is easy to use, modern, and fun.
Or Dropbox's insight was that it is inconvenient to store everything on your computer with no ability to access it from the Internet and people would like to store and share their photos and documents from the cloud.
Another example is Volition, which was developed with the help of Rubyroid Labs Team. The gap there is that people would like to influence the products that are being developed and have a word in choosing the vector of company development. So Volition decided to offer its customers an opportunity to vote on what beauty products are to be developed next, which is a great idea and something nobody else offers.
Read about another great E-commerce MVP example: Presli shop case study
It is extremely important to find in which way your product is unique. Otherwise, you are doomed to competing for those who are already in the market and have their audience. You don't want your startup to die in the fight, so it is better to think what unique features you can offer. If you can't think about the features, take into consideration design, region, where it can be used or devices it supports.
And it is no less important to deeply understand the problem you are solving. Since it will be the main question in figuring out which features should be included in the backlog and which should be developed right now. We will get to this part a little later. And now let's imagine, you have figured out the unique part of your product.
Step 2. Figure out the vision, scope, and risks of the product
OK now, when we know what problem we are trying to solve, it's time to get down to the vision of the product.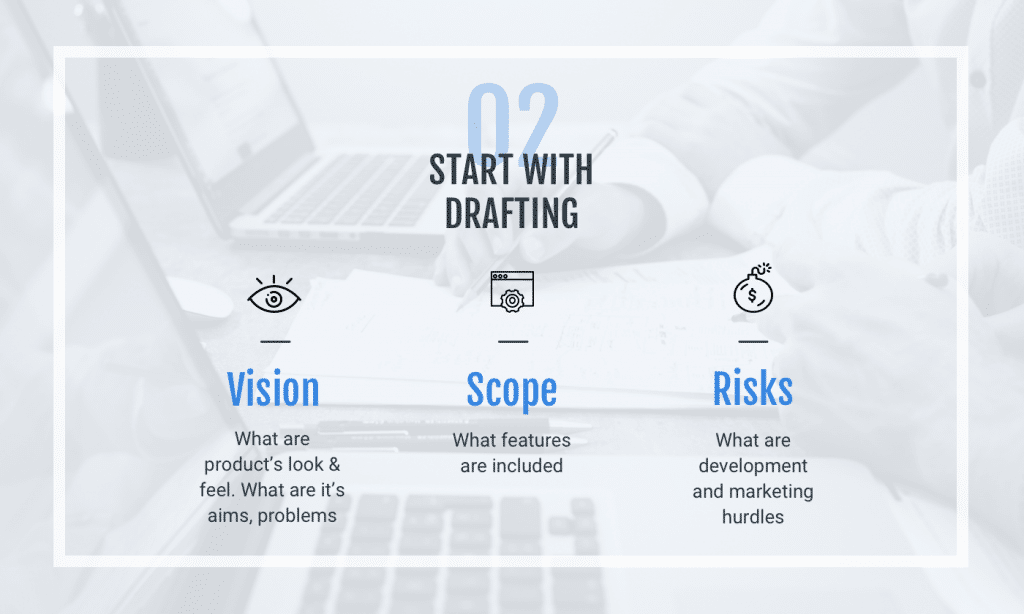 Vision
Defining your vision is basically thinking, sketching or prototyping what result you want to achieve. Be attentive, when talking about the vision, we are talking not only about the MVP but about the complete product you want to receive after everything is done. It is important to think about all the parts beforehand to reduce the number of things being redeveloped. If you have an extremely big project, it might be useful to split it into a few smaller ones to reduce effort and speed up the time required for preparation and development.
Vision usually contains:
Problem description

Short description of the solution

The audience you are aiming at

Main features list with a short description of them
Scope
By listing the features to be developed you basically form the scope of the project. You might reuse some of them or add later. But at this stage, it is important to understand a general estimation of how much time and effort the development will take as well simply understand what it should do.
Drafting a scope is also very efficient for making sure your understanding of the solution is consistent and you haven't missed anything. A list of features will let you ask yourself the questions of how the product will look like in future and make sure you have everything it takes to achieve success.
Read more about how to create a custom CRM system
Risks
And one more thing you should take into considerations at this step is risks. When drafting a project everybody has rose-colored glasses on. You should also investigate competitors and think about the risks of getting into the market. This would let you add some safety cushions to the funding. Besides, studying the competitors might help you to get some extra ideas that will be helpful for your product.
These are only 2 first steps you need to take to build a successful MVP. Read about what follows next in our future articles  (part 2, part 3).
Read about 5 MVP examples that prove a limited budget is no excuse.

---
We are sorry that this post was not useful for you!
Let us improve this post!
Tell us how we can improve this post?