It's more expensive to build a CRM than to simply use a ready-made product for a few months. The good news is, you might not even need to spend a lot on the development of your own product.
This sort of investment is long-term. The return will be huge if your custom CRM app is:
developed by programmers with decent skills,

seamlessly integrated into your workflow,

designed with particular features in mind, 

based on a wise implementation model.
Nevertheless, you are unlikely to build a bespoke solution just because you can. The natural first step would be to analyze the immediate needs and goals of your business.
How can you get a sense of whether your current situation requires your own custom-made CRM software? And what's the best way to decide whether building your own will pay off in the long run compared to using a preset application? We put together this checklist to help you figure it out.
SPOILER: The last point of this checklist features a price comparison between creating a CRM app and using a ready-made product. You can skip it altogether and get a quote from Rubyroid Labs — we know how to build a CRM from scratch that will meet all your needs.
Contents
1. You can't find particular features with out-of-the-box CRMs
There are hundreds of CRMs out there providing in-demand features, but you might have something special in mind.
"You will get the same results everyone else is getting if you do the same things," they say. Truly, escaping the vicious circle of mediocrity, whether in business or in our personal lives, often requires unconventional thinking and actions.
If this concept is in line with your vision, you already have some ideas on how to stand out from the crowd. You might already be eager to make these ideas a reality.
Odds are that implementing an unconventional strategy will require unconventional technical solutions. Virtually every business relies on customer relationships and your unique approach will most likely include improvements in this area. 
The technology behind it? Customer relationship management systems a.k.a. CRMs.
If your company was established a while ago, you probably already have the relevant software in place. Still, it might lack particular features, preventing you from advancing your vision. This means the time has come to look for an alternative.
There are a slew of pre-designed CRM apps out there. This market is currently estimated to be worth $58.04 billion and is projected to reach $128.97 billion in 2028. So, before you decide to build a CRM of your own, take a look at the most popular ones.
Not finding the features that would power your further growth with Salesforce or HubSpot? Don't sweat it: there are some gems out there that haven't really been promoted yet — go check them out.
If your search for a system with the relevant set of features doesn't come to fruition, though, then you should consider developing CRM software. Programmers with decent skills will likely be able to bring your boldest ideas to life.

Here's an example from our practice. A UK-based cruise company named Sail Croatia wanted to automate business-specific operations such as booking and boat allocation. We built a custom CRM that digitized these and other processes, resulting in a 70% reduction in manual work. Let us know if you'd like to use our help to achieve similar results.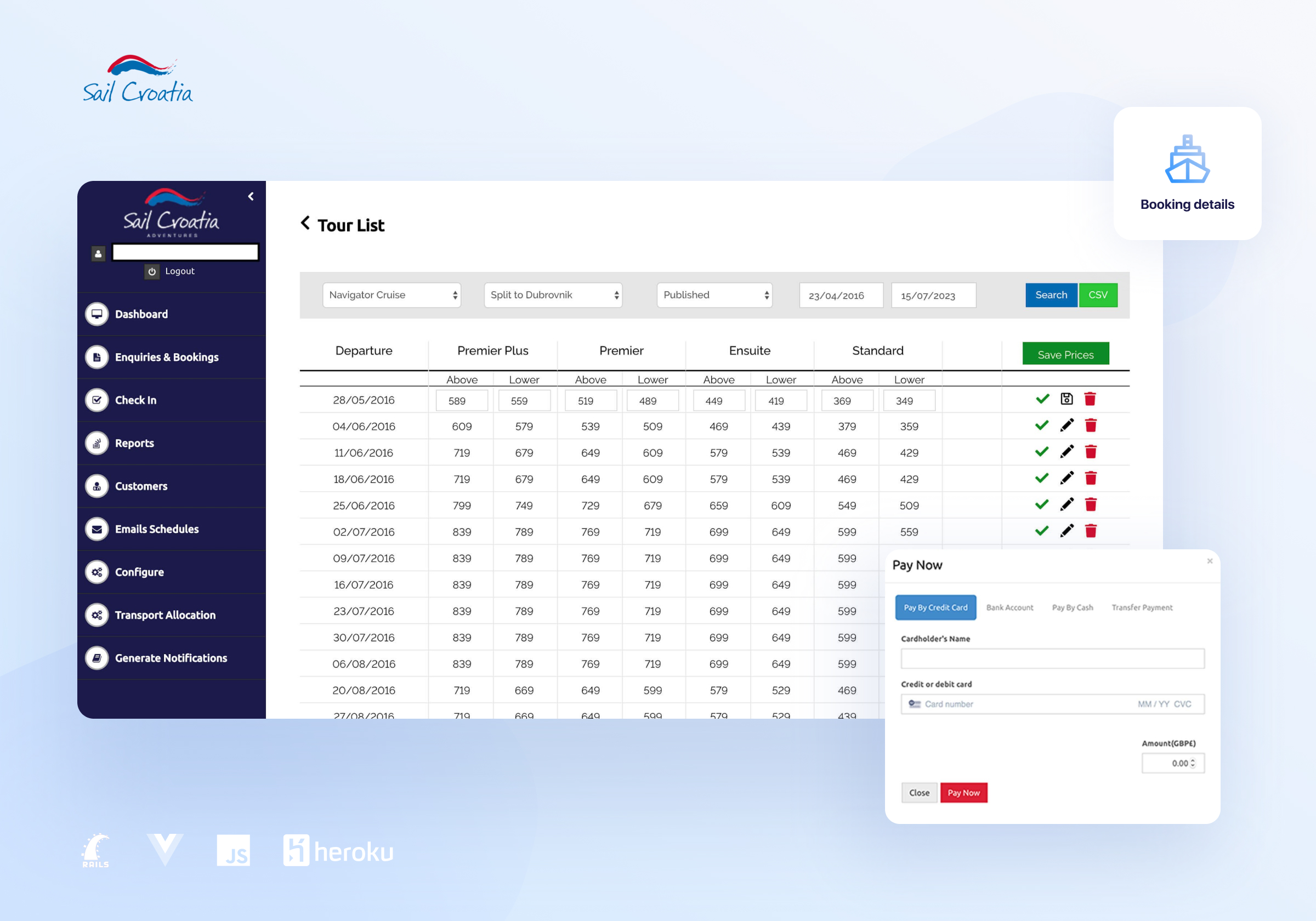 2. The size of your team keeps changing
When deciding between building a custom CRM and using an off-the-shelf product make sure to take into account the size of your team. 
Price options for predesigned CRMs typically vary by the number of users. Rates range from $119.88 per user per month with a yearly contract, to a monthly $159 per user.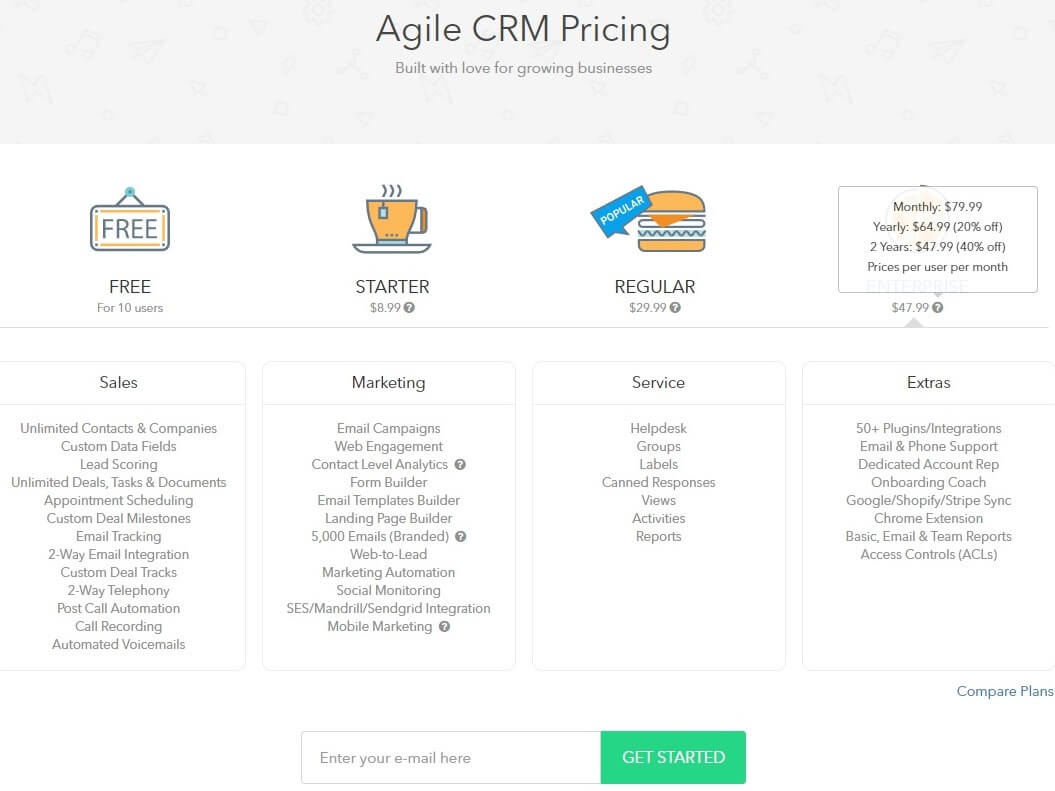 For instance, you can sign up for a plan allowing up to five people to operate within the system. Every one of them will be able to use the benefits of the CRM whenever needed.
If you have a stable, predictable number of employees involved in client relationships, there might be a perfectly matching solution on the market. Subscribing to a particular plan is similar to renting an office in a business center — a viable option for many.
But what if your office headcount keeps changing? At some point, you will be paying for space, tables, equipment, and whatnot that your team is not using. 
On other days, you will need to rapidly expand for a short period of time. In this case, you may have to rent an additional or bigger office, while still paying the long-term rent for your headquarters. And short-term rent is usually more expensive.
After meticulous calculations, owning an office might appear as a smarter choice. The same applies to your system. We will provide a breakdown of the costs and benefits of building a custom CRM app vs. preset solutions later in this article. 
You can also consult us to help you with calculations. Rubyroid Labs has built CRMs for companies in a plethora of industries, including travel, automotive and real estate.
3. Highly responsive support is crucial for your operations
If you rarely experience emergencies in your work, you may not need to build a CRM of your own.
Top CRM companies have excellent customer support based on their experience with various clients. They are aware of common misconceptions about their product and have relevant user resources close at hand to swiftly handle your request.
However, there are three concerns you should be aware of:
For CRM providers optimizing their support line,

their own business efficiency comes first

. With the rapid development of AI, they will increasingly rely on chatbots and voice bots to process customer issues.

The support team of an off-the-shelf CRM app can be split into departments. In this case, you should be prepared for a runaround as you contact them to resolve an issue or get help with using the product.
CRM providers outsource some functions to offshore subcontractors. Service companies often claim to provide 24/7 support. But this often only applies to their call center, which needs to hand your problem over to a relevant team. And the latter might be sleeping blissfully on the other side of the globe while your business is struggling.
One of the CRM market leaders, HubSpot has its headquarters in Cambridge, Massachusetts. Meanwhile, the phone number on the contact page of their website begins with +353 — the country code of Ireland.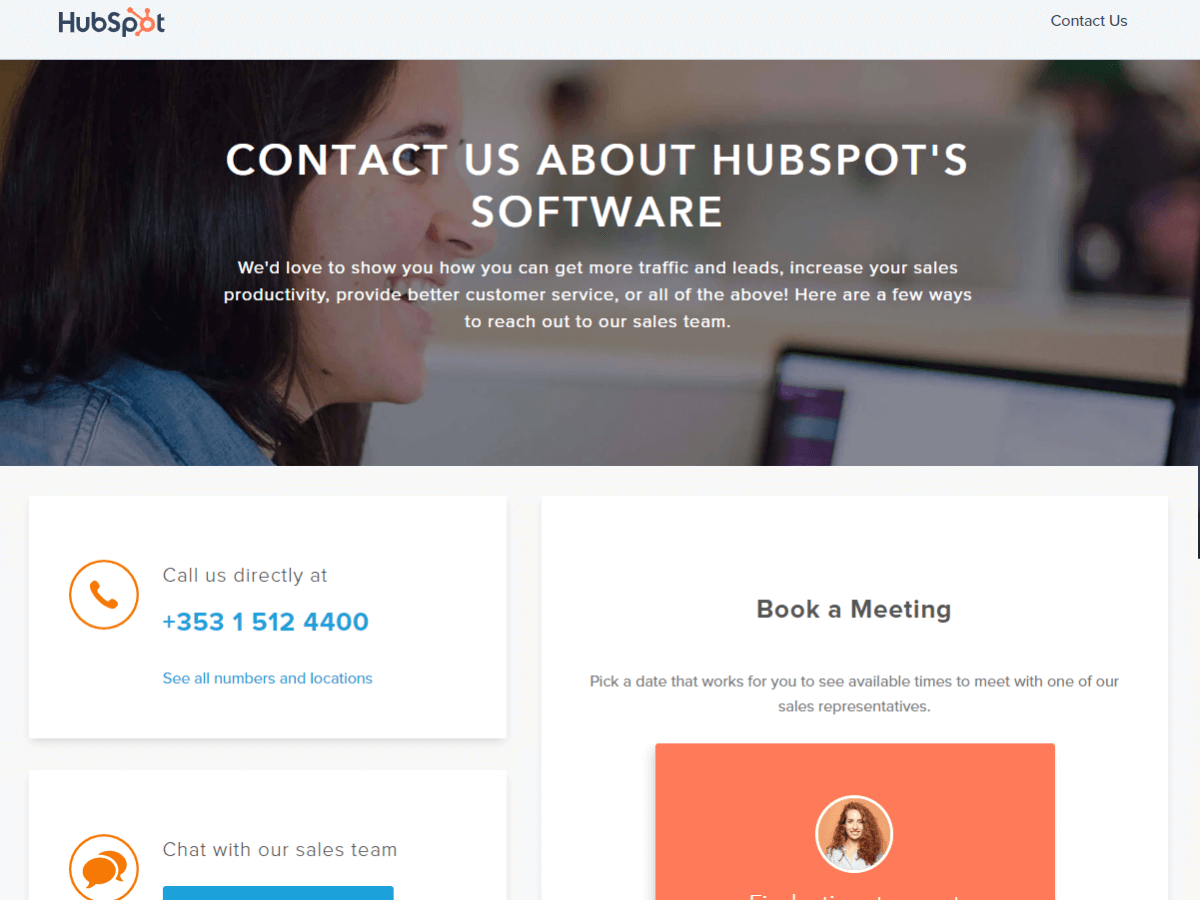 All these concerns are real but will not necessarily be right in every case. Again, leading CRM firms provide superior support. You never know until you give it a try.
If dynamic assistance is a priority for you, create your own CRM app. Specify the terms of service in a contract with a trusted development team and it will efficiently deal with any technical issues that may arise. 
Ask us directly to learn more about the process.
And don't forget that if you decide that you no longer need a custom-built CRM, you can sell it to someone who does, to cover the development costs.
4. Significant changes in your business are likely to occur within a year
With an out-of-the-box CRM system, you are typically offered to pay monthly or yearly, the latter being the most cost-efficient option.
Some CRMs, like Insightly and SugarCRM, only offer annual plans. Salesforce has an extremely limited range of options for users who prefer monthly billing.
Subscribing for an annual plan might work for you if, within the next 12 months:
your needs remain unaltered,

your business situation is unlikely to change beyond your forecast,

you do not plan to significantly scale up or down.
In all other cases, you will simply overpay. The office rent analogy applies here as well. You might not always need a rented property for your staff, especially in this era of remote work. Either you end up sticking to a monthly plan for a year, or you need to switch from a prepaid yearly model after six months or earlier/later, you lose money.
Building your own CRM system is a viable alternative. You can start small, lay the groundwork, and add features as you identify the need. Although building your own product is ostensibly more expensive, this approach can prove to be the most economical.
But this is a bit tricky, so we suggest that you do your calculations first. Look at the off-the-shelf solutions that meet your needs, double-check your business plan for the next year, get a quote from a CRM development company, and take the numbers to a spreadsheet. Keep reading, and you will find out what to do with them.

5. There is a diverse kit of digital tools you want to keep using
Every industry has its own niche software, and every business has preferences based on its unique situation.
As an established company, you must have a tried-and-true set of digital aids in place. And if you are looking for a new CRM app, it is only natural to select the one that supports most of them.
CRM companies are continuously working toward diversifying their solutions. They focus on the industries where efficient customer relationship management is in demand and enable integration with the software popular within those industries.
Salesforce alone offers dedicated solutions for 13 industries: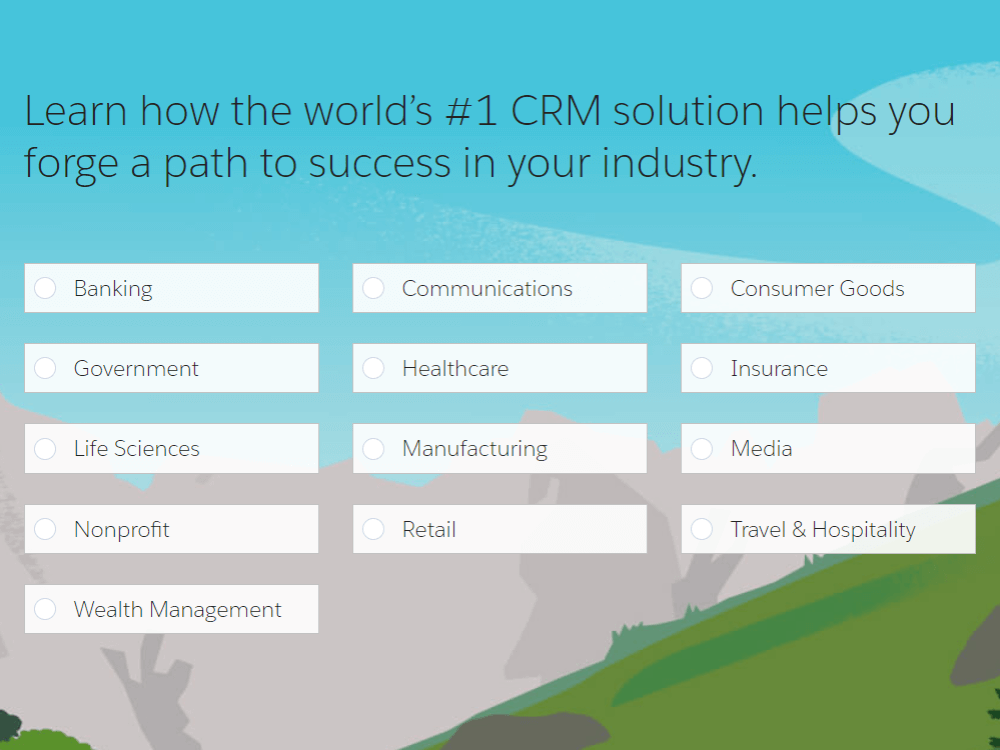 With that said, you are likely to find a ready-made CRM software supporting most of the tools upon which you have been building your success so far. These range from the conventional ones like G Suite and DocuSign to more industry-specific solutions, such as real estate analytics engines (e.g.: AreaPulse) and property search engines (e.g.: RealScout).
Also, you should keep in mind that some CRM companies will charge you for a particular integration separately, which will add to your final subscription fee.
It cannot be ruled out that you will need to replace some of your preferred applications with alternatives to be able to use another system. But if you have time and resources to retrain your team accordingly, this is an agreeable trade-off.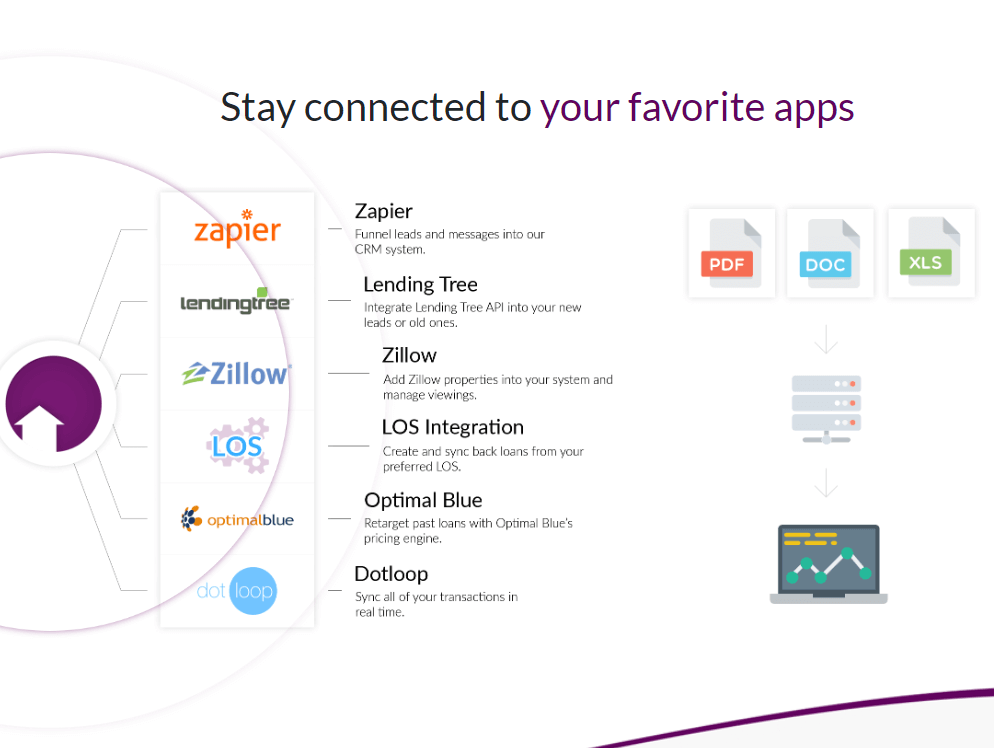 However, if your digital toolkit is too precious for you to compromise, or available alternatives plainly don't cut it, building a CRM app is the only solution. The dedicated development team will make sure that your system allows for the integration of your favorite apps.
In case you are not sure whether all your tools can be integrated into a brand new CRM system, consult Rubyroid Labs — it's free.
As your business keeps evolving, you will need to onboard new software. custom CRM app, this will not be a problem. If an app allows access to its API, your engineers will integrate it into your workflow.
Big Purple Dot, a real estate CRM we helped build, is a great example. The company behind it wanted a place where one could manage leads from different sources such as Zillow and Realtor.com. We integrated the CRM with those sources so it could pull data in automatically.
6. You only need a limited set of features and integrations
An efficient CRM system is a manageable one. Critical features should be within quick reach while anything else needs to stay out of sight.
The majority of today's CRMs are complex. They come with all kinds of bells and whistles to meet the needs of each and every business. 
Being able to cater to a diverse audience is a matter of survival for most CRM companies. As a result, even the ones that are simple today will eventually start growing in complexity tomorrow.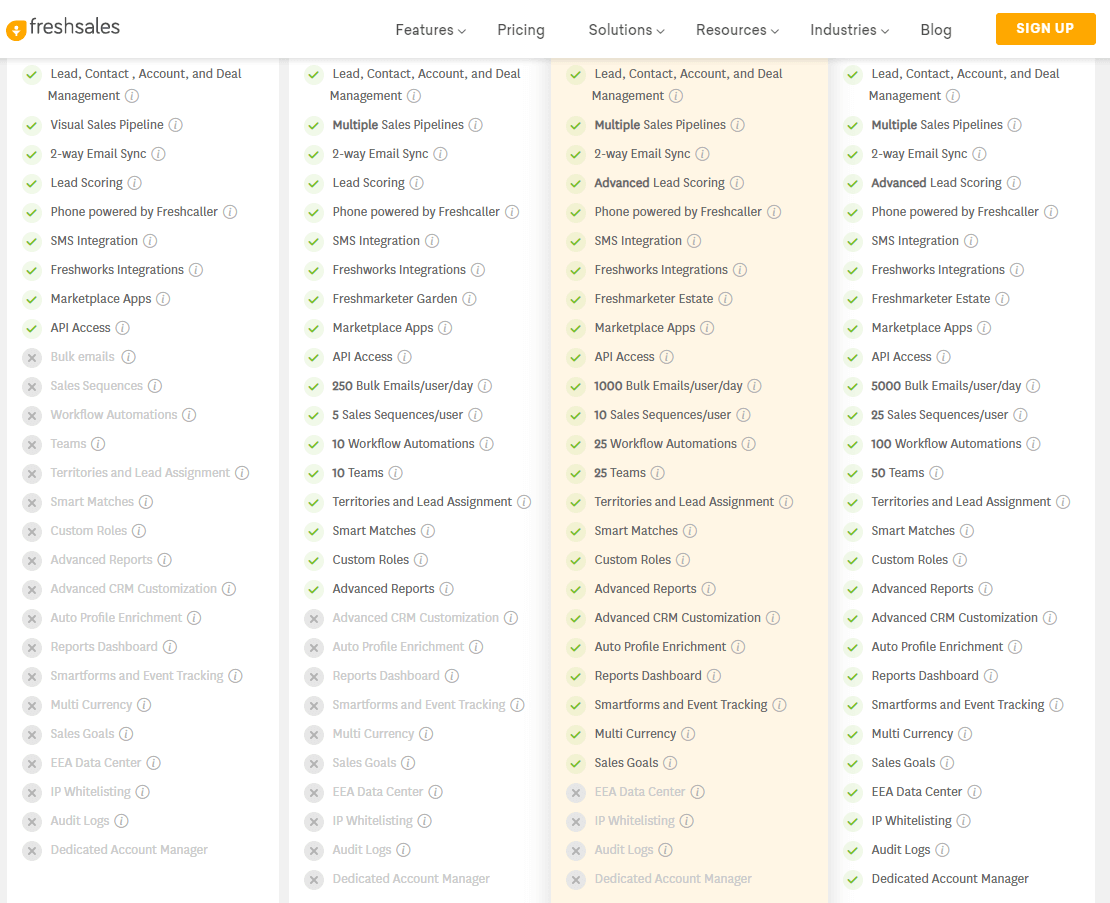 Luckily, the leaders on this market ensure they have user-friendly interfaces, which can even be customized, so your team won't get lost. Once you have found a CRM software packed with your desired features, make sure that it allows for you to build your processes around them.
There is no guarantee, though, that you will be able to find a match here. Every CRM system that seemingly provides the functionality you are after might later turn out to be too clunky. If so, you will have to invest a lot of time and money into staff training before making the new software an integral part of your workflow.
Alternatively, invest in building custom CRM software. Set feature priorities for the engineers and explain your vision of user experience to them.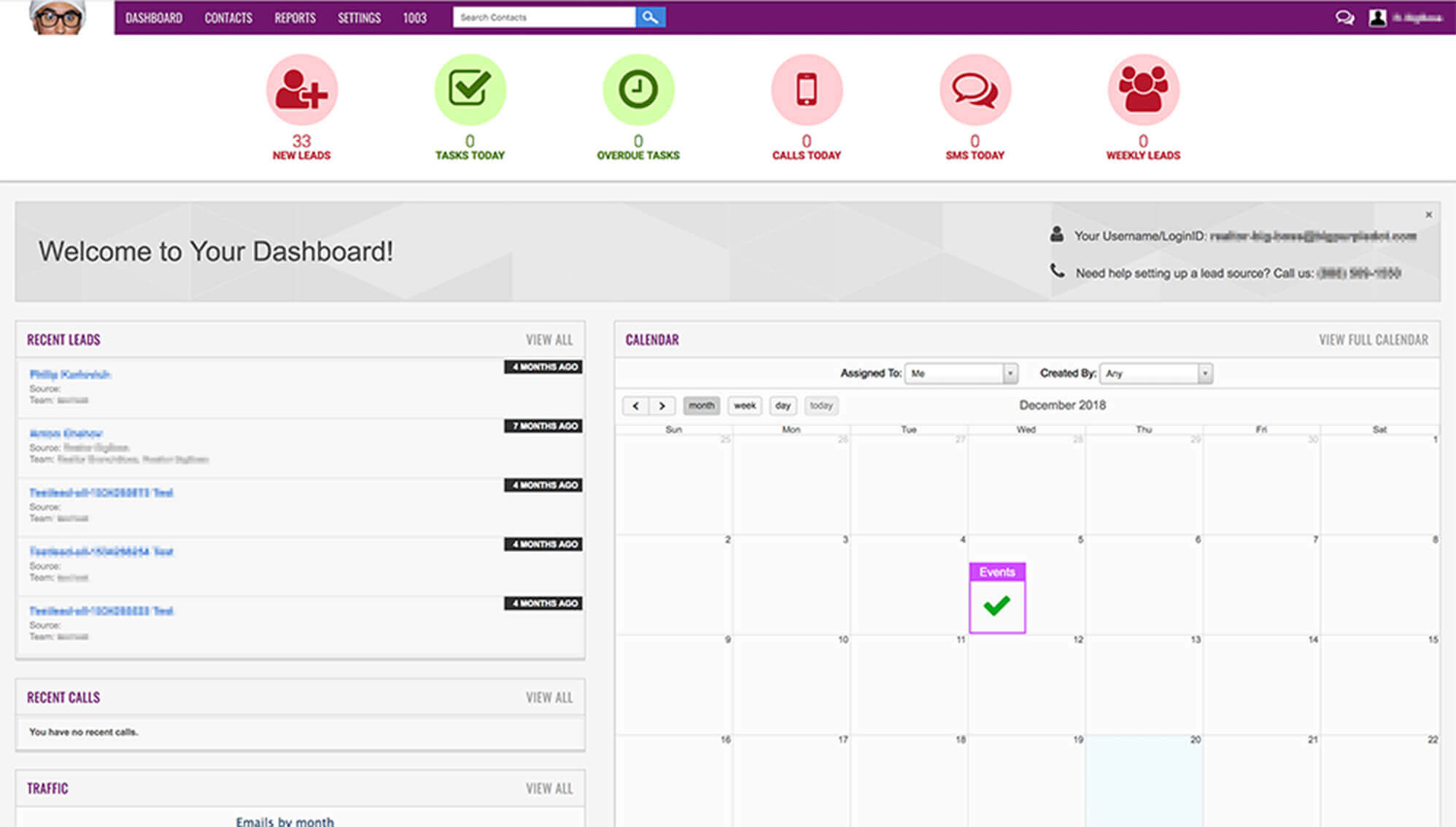 The developers will make sure that the interface is user-friendly for you and your team and does not look like a spacecraft control panel. If needed, they will provide essential training, too.
7. You want to ensure customer data privacy yourself
You cannot mess around with the protection of your customers' data. This especially is a crucial matter if you operate within a highly regulated field like finance or healthcare.
The best CRMs on the market do a bang-up job in ensuring data protection. They prevent breaches by using some of the most advanced techniques, such as double authentication, diverse data centers, encryption, business staff training, and more.
Yet invulnerable they are not. The latest high-profile case happened in 2019, when one of the top CRM companies, Redtail, had to admit to a major flaw. Names, addresses, birth dates, and Social Security IDs of a number of their clients became publicly available. It remains anyone's guess if and how this data was used by third parties.
If your CRM provider has a serious leak and you are blamed for it, it'll likely be you who ends up in court. This is not a problem if you are backed by experienced lawyers, though.
At the end of the day, any web application is hackable. Systems that are almost immune to malware fall prey to social engineering. 
If you build a CRM app from scratch you can make sure it complies with the highest security standards and business specifics. And although it still does not guarantee 100% safety, you are in control, not a third-party firm that might rely on external vendors itself.
If you want to learn more about how your custom CRM software can improve data protection, don't hesitate to consult our team.
8. Building a CRM app
 aligns with your business model
This last point arguably trumps all the previous ones. If you build a CRM system and successfully integrate it into your business, you may reap exciting benefits. However, this only makes sense if those benefits top the development costs.

Most points in this list apply to companies willing to boost their processes by adopting a CRM. But you could be up to creating an application that other businesses can use, and that is a different story. Your unique selling point could be a specific niche, methodology or killer feature.
Take our client, RocketWash, for example. The startup founders came to us with an idea for a CRM for car washes — very much a niche product.
We helped them develop a system that draws on more than 50 modules, including analytics, reports, booking, accounting and AI-based recognition. Car washes can use the CRM to track employee performance and other business metrics, manage finances, handle bookings and more. More than 100 businesses are now using RocketWash.
If you have an idea that can improve an entire industry or introduce new approaches, we can help you bring it to life. Let's talk about it.
BONUS: Сustom CRM development cost vs. ready-made product plans
To calculate the potential amount of investment in the development of a CRM software you should look at the following key price components:
Business analysis: around $5,000
CRMs are all about doing business efficiently. Therefore, you need to start by analyzing what role the system should play in your corporate processes and which boxes it should check.
Design: $500–$10,000
The price range for design depends on how much customization you want with your CRM interface. If you're going to sell it as a product for other businesses, you will probably want to make it easily recognizable.
Registration and authentication: $1000–$2000
Signing up via email should suffice during the early stages. But you may also decide to introduce registration via social platforms (for corporate clients) or a single sign-on (for members of your organizational infrastructure). That will be reflected in the development price.
Admin panel: $3,000–$10,000+
The amount of functionality you want to introduce in your CRM will define the cost of developing its admin panel. Every custom feature will make it more expensive.
Business flows: $1000 per page
Digitizing your custom business logic through a CRM will require several interconnected custom web pages or mobile screens. And 'several' means dozens or even hundreds.
Statistics and reporting: up to $2,000 plus $5,000 per each third-party integration
You will likely want to track internal metrics for data in your CRM, or maybe even monitor indicators from other systems.
API integrations: $1,000–$10,000+ per integration
Most CRMs require integration with task-specific tools (e.g. marketing software). Developers will integrate those tools in your custom CRM via APIs, and the cost of integration will depend on the complexity of work.
Media formats: $2,000–$10,000+
To go beyond text format, you will need to integrate your CRM with different media services and cloud storages. Again, the complexity of an integration will define its price.
Testing: 30%
Quality assurance or testing usually takes up about 30% of the entire product budget.
Roughly speaking, you should be prepared to invest a minimum $100,000–150,000 to build a CRM app that meets your needs. For a more detailed breakdown, check out our post on custom CRM development cost, or get a free quote from Rubyroid Labs.
To make the price comparison of building a CRM system vs. using a pre-made solution less of a headache, we have put together the following table for you: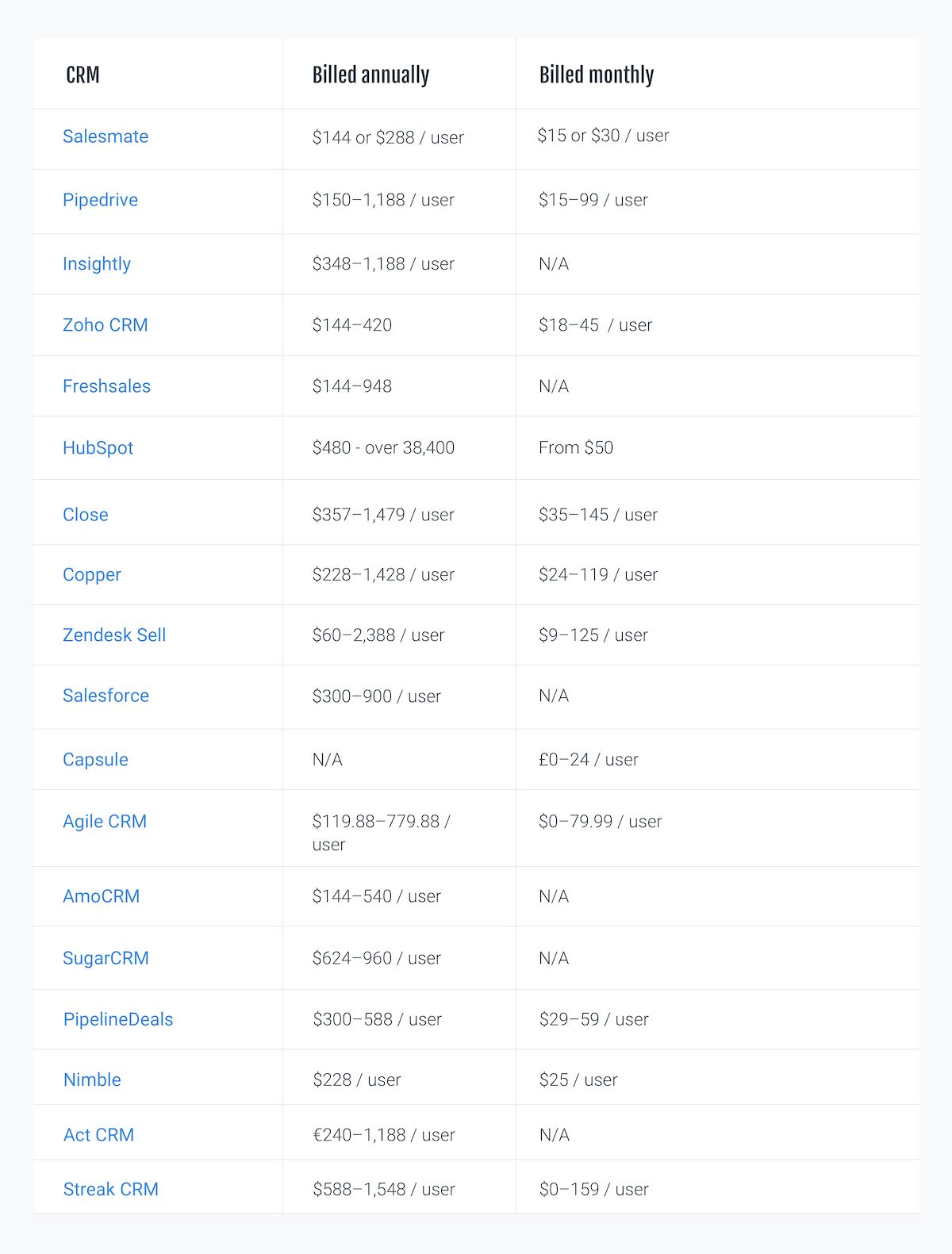 As you can see, there is a range of plans that cost as little as zero bucks to those that are obscenely expensive.
Obviously, you are unlikely to find a particular set of features for your entire team with a free option or too much cheaper than the average, so as an example, we will look at $119.88 / user as the lowest amount billed annually and $159 / user as the highest billed monthly.
For example, if you have 20 users on board, annual costs for you range from $2,880 to $38,160‬.
Verdict: to Build a CRM 
or Use Off-the-Shelf Software?
You know your industry, business model, and what resources are available to you better than anyone else. 
And we are well-versed in how to develop CRM software. Companies like Big Purple Dot and Sail Croatia will tell you so. Even so, we cannot guarantee that building your own product is the best option for you.
Take your time. Research. Calculate. Only when you've done that will you be able to decide whether you should build a CRM app.
At this point, you might have already made up your mind, or are still vacillating. Contact Rubyroid Labs for a consultation regardless.
Rubyroid Labs is the custom CRM development company. Learn more about our services.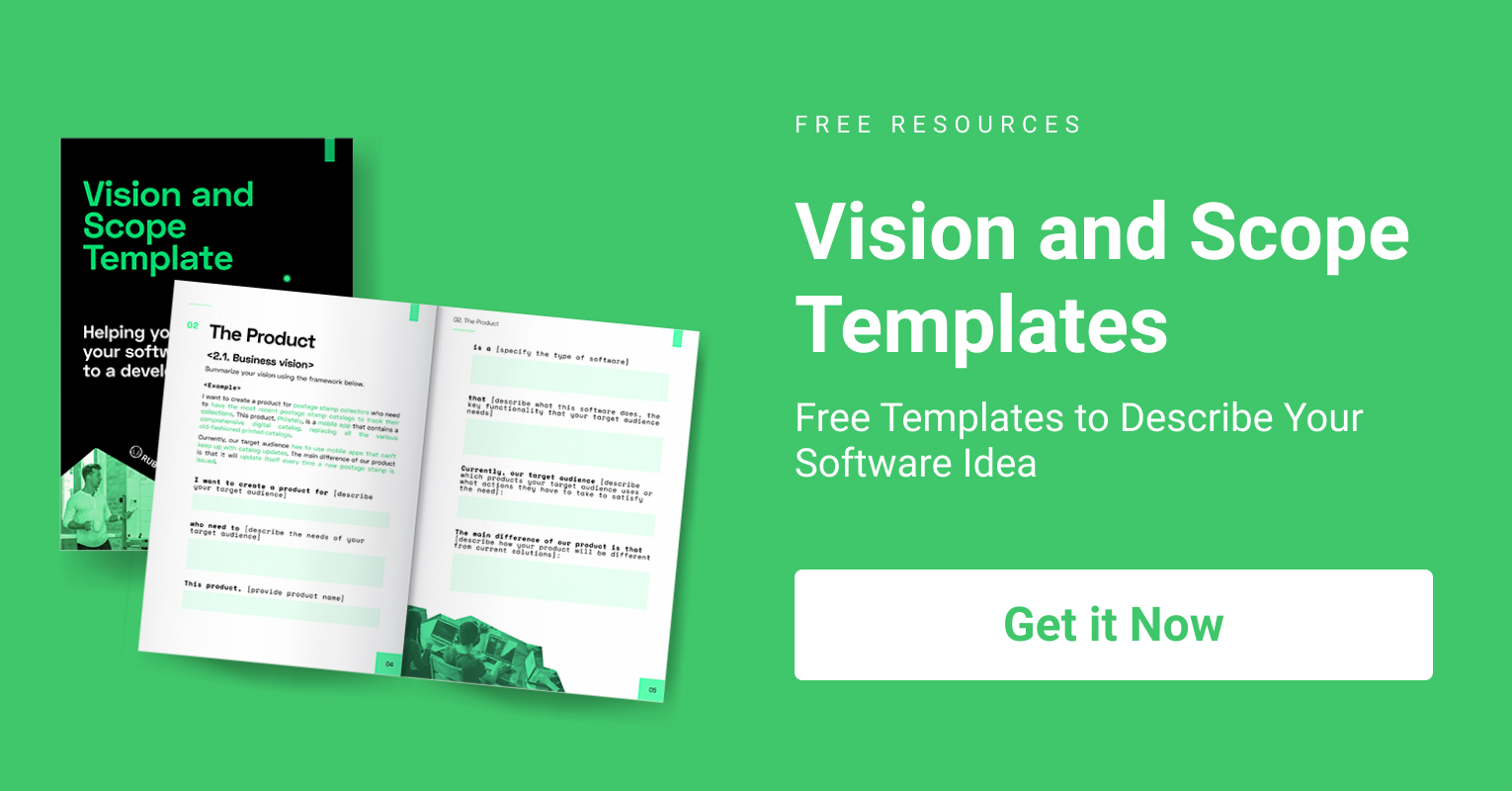 We are sorry that this post was not useful for you!
Let us improve this post!
Tell us how we can improve this post?