Real estate is a lucrative industry for software companies. The money powering this business, and its variety of operations including renting, buying, selling and investing, have propelled the rise of numerous startups that solve industry-specific problems. 
The report by the National Association of Realtors (NAR) for 2018–2019 showed that 46% of property businesses found keeping up with technology to be one of the biggest challenges for the next two years of operation.
As Rubyroid Labs have worked with several startups in the property business, we can see that there still is room for improvement. With this article, we offer an insight into various aspects of the industry that could improve with real estate software tools. 
You will find examples of what is currently available on the market and how a particular problem is being solved by digital.
Read on to get inspiration for your own idea for a new real estate service or platform.
1. Search and Listing
Finding the property that is right for you and your client, as well as placing your offer where the relevant audience can easily find it, is one of your main tasks in real estate. Multiple listing services (MLS) and Internet Data Exchange (IDX) are real estate management tools that have been around for quite a while. But this is not where the improvement ends.
Real estate listing
websites
The 2018–2019 report by NAR found that looking online for properties for sale was the first step toward buying a home for the majority (44%) of buyers.
There's Zillow, Realtor.com, Zumper, Trulia, and many more — every real estate professional knows their key listing websites well. Each of these platforms comes with its own bunch of additional features like neighborhood analysis, client data collection and so on.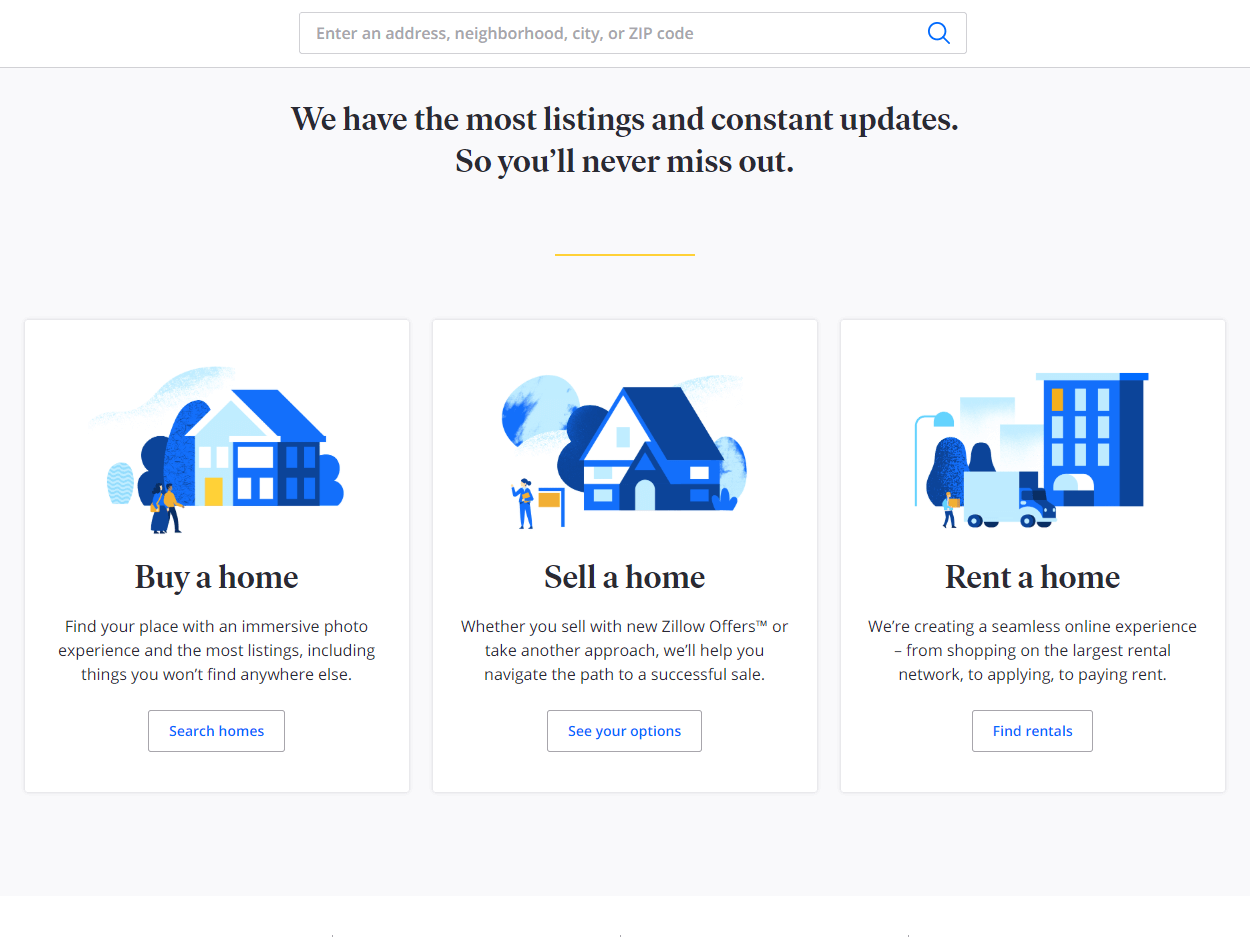 Although this market looks oversaturated, most buyers (56%) from the NAR report said finding the right property was the most challenging part of the process. Maybe you have an idea that can change that?
Listed
property management tools
With so many real estate listing sites, it is obvious that professionals in this industry find it a challenge to efficiently manage their assets. 
There is now a range of property listing management tools tailored to the needs of each segment, from 360Workplace and RealtyMX, built to serve medium-to-large firms, to the likes of TrueRent, which is more small-business friendly.
Got an idea for a service that can further improve how brokers and real estate agents manage listings? Contact us and see how we can help you implement it.
2. Lead Generation and Nurturing
Lead management in real estate involves handling your listings and finding the ones that match your criteria. But we suggest reviewing lead generation and nurturing as a separate business aspect, where software spans from real estate CRM tools to the automation of communications.
Customer relationship management (CRM)
Leads may come through any of the channels a real estate company works with. Therefore, property businesses need customer relationship management (CRM) systems that integrate with the most popular platforms. Our client, BigPurpleDot, does a bang-up job with their real estate CRM, allowing users to gather leads from Zillow, Trulia, phone calls, and more.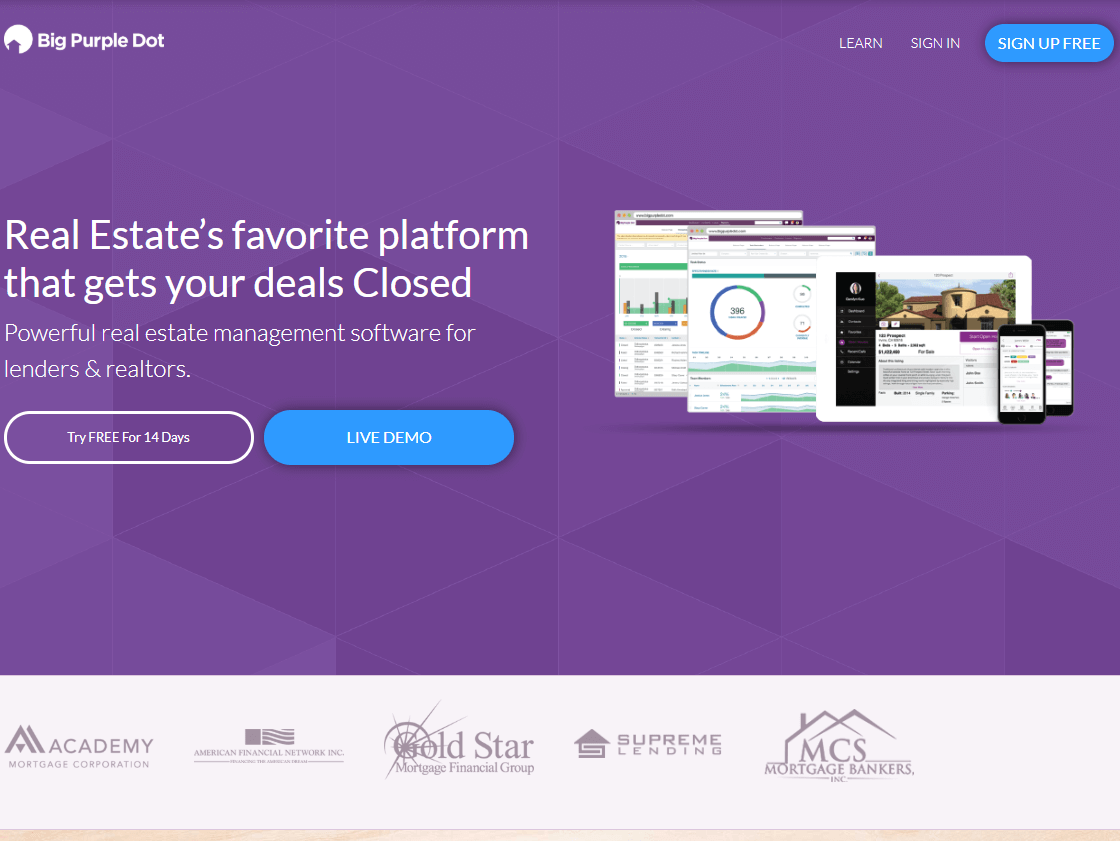 Property businesses sometimes opt for building a custom CRM for themselves.
Email automation
In 2020, Email remains a major channel for nurturing leads. To what extent can this channel be automated within the real estate market? The RealScout tool, besides its other uses, finds new listings in your MLS, checks them against the criteria set by your leads, and emails the matching listings to your clients — the process is fully automated.
Predictive buying and selling
Artificial intelligence (AI) has yet to unleash its real potential in real estate, but it has already made impressive inroads into the industry.
Digital tools like Revaluate, Quantarium, and HouseCanary allow you to tap the power of predictive analytics, an AI technique. By analyzing publicly available data, these services let you know when someone is going to move or sell their property for any other reasons within a projected timeframe.
Dialing automation
Although AI is still far from taking over deal negotiations, automation can create amazing shortcuts. 
With that in mind, REDX, ArchAgent, SalesDialers, Mojo, Espresso Agent, and Vulcan7 created their dialing tools. Here is how it works:
A service integrates with your list of for-sale-by-owners (FSBOs), expireds, or assets sorted by other criteria.

On your request, numbers are automatically dialed one by one.

Every call is accompanied by specific information on your screen, helping you choose tactics and make other decisions.
Lead qualification
The benefits of AI in real estate lead management go beyond predicting the next move on the market.
Connect a conversational AI with intelligent process automation and you will get a chatbot that handles messages on your website's live chat or Facebook page. This handy little tool can ask the prospect questions to find out whether they qualify as a lead worth spending your time on, and can even offer to schedule an appointment with an agent.
This description is not based on a sci-fi novel. Check out the Aisa Holmes bot by Structurely that does just that.
If you couldn't find a tool that effectively solves specific problems in lead generation and nurturing in the property business, this means you might have discovered a niche for your startup.
3. Market Analysis
Market analysis is a specific area for improvement in real estate. It takes understanding of the neighborhood, local demographics, a property's track record, risk assessment and more to analyze, evaluate and forecast.
Although many listing sites take this data into account, there are tools built particularly for the purpose of marketing analysis.
Neighborhood analysis
The right data processed intelligently can have a huge positive impact on decision making in the real estate business. We have seen how it works from the inside. Rubyroid Labs have partnered with Layer Cake to develop a mobile app that, as its name suggests, handles big amounts of data as layers.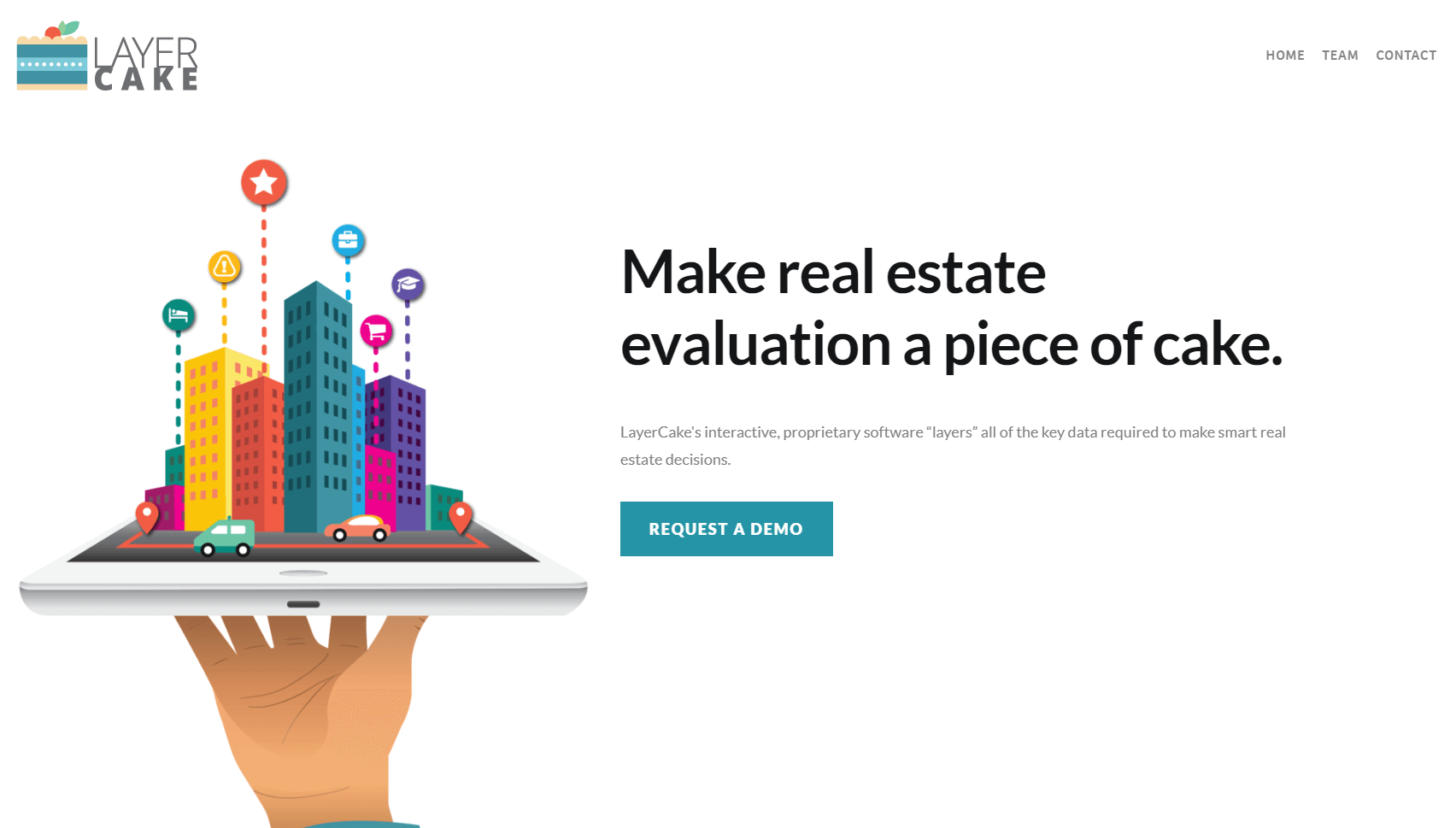 Layer Cake users can evaluate a property on an interactive map and forecast trends through neighborhood information like transportation, hotels, schools, cafes and other facilities nearby. This data is aggregated from Google Places, ReCity, and other similar sources.
Market reports
When competing for a listing, the agent who comes up with the slickest and most insightful market analysis presentation has the highest chances of winning. The market today has several options to help real estate professionals with this area, from comparative marketing analysis with Cloud CMA to more brand-oriented but still highly detailed reports by AreaPulse.
You might have your own market analysis methodology that works wonders, but currently available tools might not be built to support it. This might be a rare opportunity to present the market with a unique digital solution. If that's something you're considering, let's talk about how we can help you develop the new product.
4. Showcasing Property
You have only one chance to make a good first impression, and this will, in some situations, define the deal's success. From remote demonstrations to on-site showing, software developers offer tools to improve this area of realtors' work.
Graphics
According to the 2018–2019 NAR report, the majority of buyers (87%) including all generations found photos to be the most useful aspect of a real estate agency's website.
If you aren't friends with Photoshop or other graphic editors, you still can present a property in a variety of contexts using software like VRX Staging and roOomy. With these tools, you can change the time of the day in the photo, add or remove furniture, change colors, and make more custom tweaks.
Video editing
Editing videos is an even more intimidating task for someone unfamiliar with graphic software. Luckily, there is a wealth of tools that make this less of a challenge. Videolicious, for one, allows you to not only easily compile small videos into a video walkthrough, but also add watermarks and logos for protection.
Virtual reality demonstrations
As the use of virtual reality (VR) headsets is growing, this technology is becoming one of the major marketing trends in real estate.
"Agents should pay attention to how they can use virtual reality to market properties, and increase showings and appeal to the next generation of buyers," Dan Weisman, the Director of Emerging Technology at NAR, said during a real estate conference in November 2019.
There already are tools that can create a dimensionally accurate digital twin of a listed property, or a realistic model of a property under development, such as VR Global and Matterport. You can use your VR headset to discover your prospective estate as if you were on site.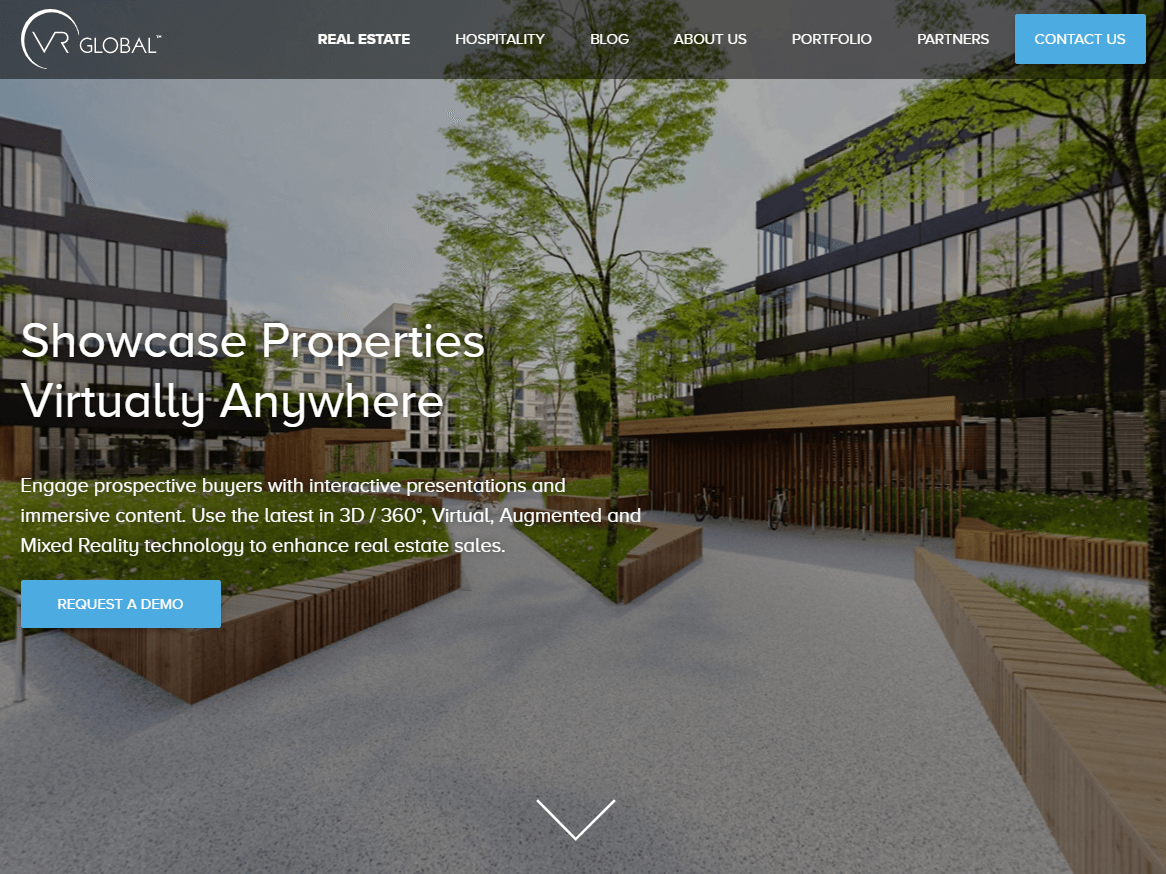 Augmented reality demonstrations
"Augmented reality is here, and having virtual reality options for viewings of homes will continue to become more prevalent," said Weisman.
Thanks to AR, potential buyers can see interiors and exteriors in diverse contexts and with various furnishing options through VR glasses or even on their smartphone screen — just as though they were taking a real-life tour. Typically, such tools are available from the same companies that offer VR showings, including the ones mentioned above.
If you have an alternative idea for software that could boost conversions at the showing stage, consider building an MVP and testing it.
5. Websites and Mobile Apps
In the digital era, you can't trust a company without its own website, especially in real estate. In addition to presenting your contact information, credentials and accolades, your online shop front can be a powerful sales tool of its own. Arm it with plug-ins, complement it with a mobile app, and you are well on your way to forming a strong bond with your market.
Website builders
In addition to more general options like Wix, there are website builders developed with the real estate in mind, such as Placester and Zillow. These services come with IDX and MLS integrations, search engines and industry-specific plug-ins of their own.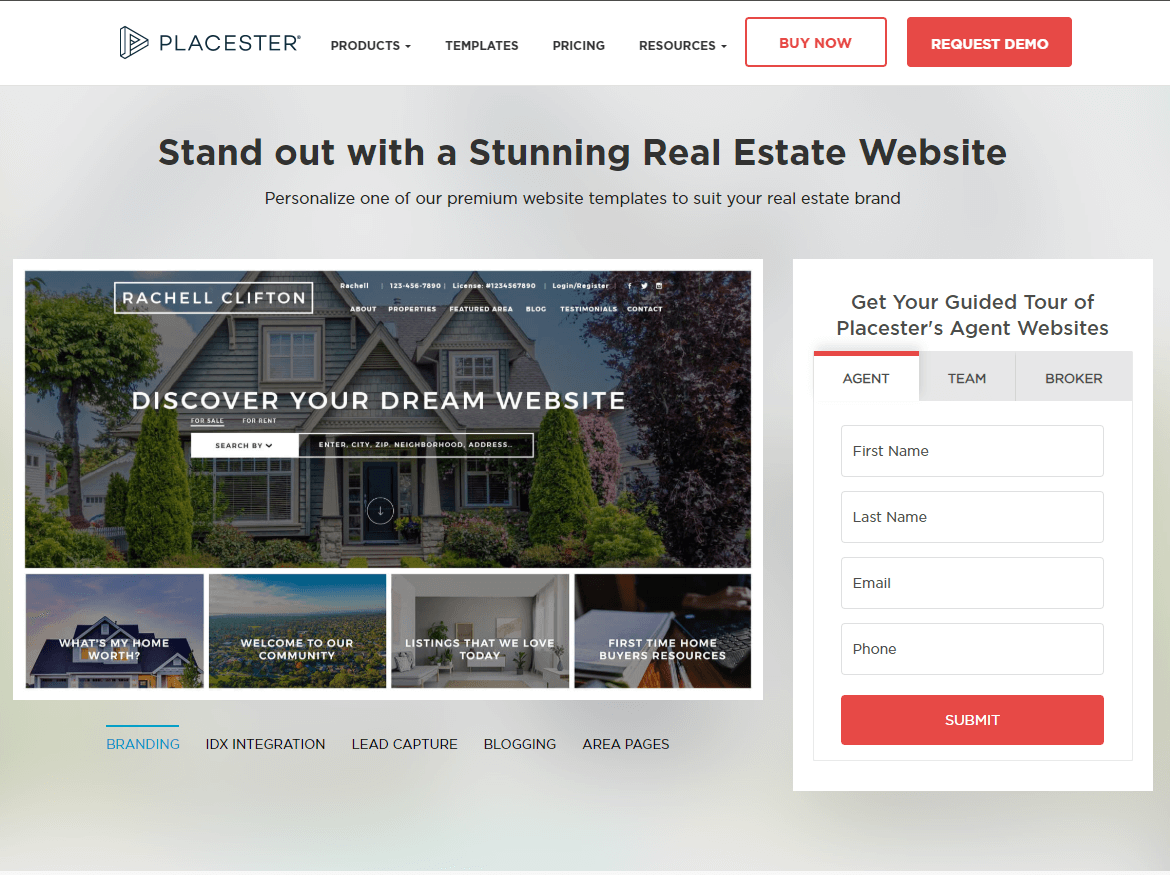 Website enhancements
Typical website enhancement tools in real estate include IDX and MLS integration plug-ins, but there is more. Consider Home Value Leads, a customizable home value estimator that you can place on your site and even make part of your Facebook ad campaign.
Mobile app builders
The future of real estate is mobile: According to the NAR report, 81% of older millennials, 80% of younger millennials and 78% of Generation X used a mobile device to find the home they currently live in, compared to 68% of younger baby boomers.
Smarter Agent Mobile and Appy Pie are among the top contenders who harness this trend. They leverage the drag-and-drop concept to offer you the code-free experience of creating and customizing your own mobile app with real-estate features.
Drawing on what's already being widely used by industry professionals, you might come up with your own web or smartphone tool that can revolutionize the estate business. Describe your idea to us and we will help you turn it into a stellar product.
6. Logistics
Real estate agents are multi-operational professionals. They often have to drive from property to property and between their clients — checking, showing, and signing papers. This has propelled the need for software that improves how realtors do their mundane tasks.
Mobility
There is a wealth of apps on the market that tackle the problem of getting through traffic, reducing travel time, and tracking mileage. For real estate professionals, it makes sense to look for something that is built with the business in mind. Everlance, for example, helps brokers and agents deduce taxes and ensure compliance with IRS.
Appointment scheduling
When you need to schedule a property showing, you have to factor in a lot of information, such as client feedback, your notes, and images and videos for a listing. There are property management tools now that integrate these pieces of data into one application and allow you to automate scheduling, such as Showing Suite and Showing Pro.
Accessing the property
If rushing from one part of the city to another juggling keys to different properties becomes too much of a burden, technology has you covered. 
With the KeyMe app, you can take a photo of a key and order a duplicate at a nearby KeyMe kiosk. Prempoint, on the other hand, eliminates physical keys all along. Install a standard Bluetooth-enabled lock on your properties, download the app, and you have access to all your locks on your smartphone.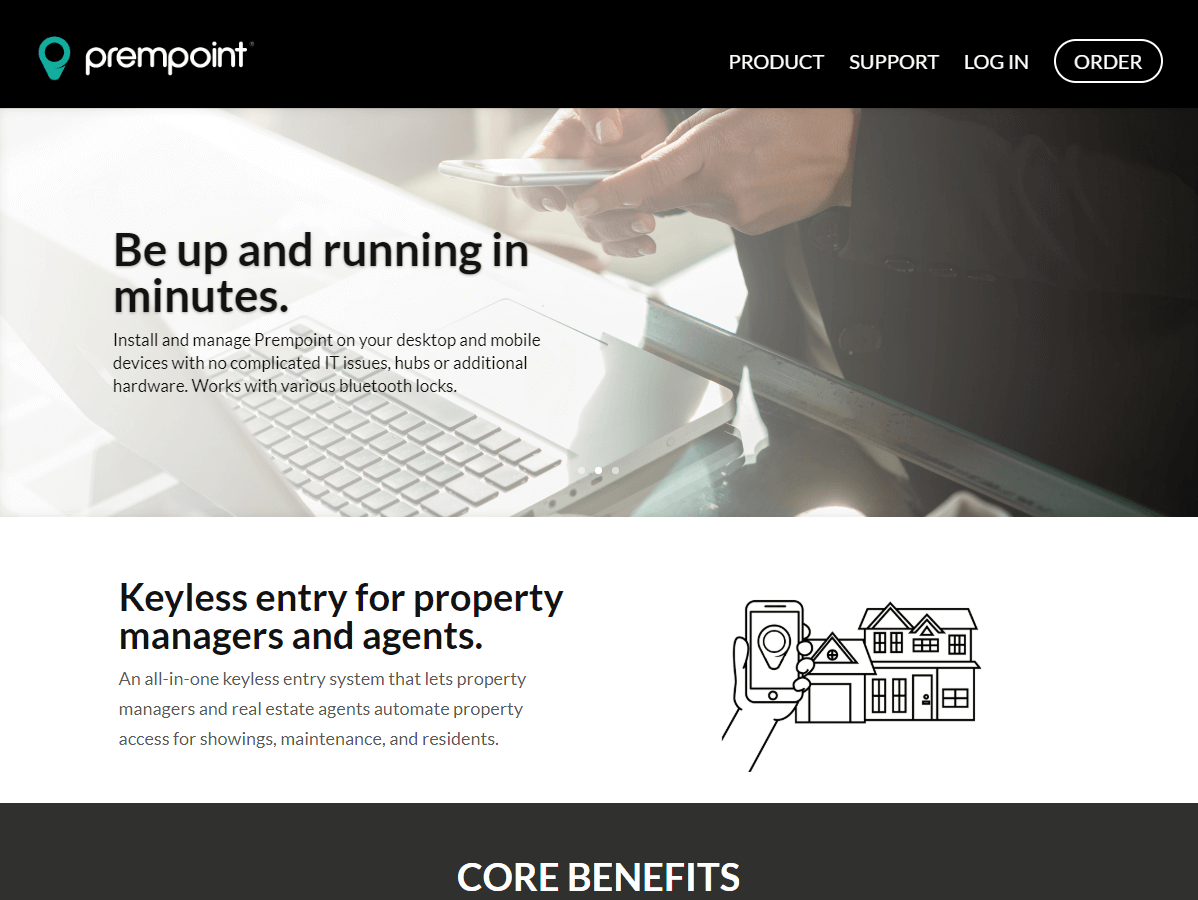 Rently takes a slightly different approach to Bluetooth-powered lock tech: it allows your leads to visit your properties with no involvement from you at all.
Collaboration on legal papers and operations
Services like DocuSign have been around for a while. They have inspired software entrepreneurs to create similar tools specifically targeting real estate businesses. Take Dotloop: from creating forms to enabling electronic signatures, real-time transaction management, and reporting, this app optimizes key operations in the property business.
Have a better idea for a digital tool that will reduce costs and streamline operations for property professionals? Talk to us and we will recommend the technology and specific steps.
7. Team Management
As a brokerage or real estate agency, you want to establish a robust system of recruiting, retaining, and managing agents. It comes as no surprise that there are software companies that can help you do that.
Brokerkit and Qualia are among the most remarkable tools in this area. They allow you to streamline the recruiting process, coordinate referrals and deal closing among your team members and clients, track investments, and monitor productivity in lead generation and nurturing within one interface.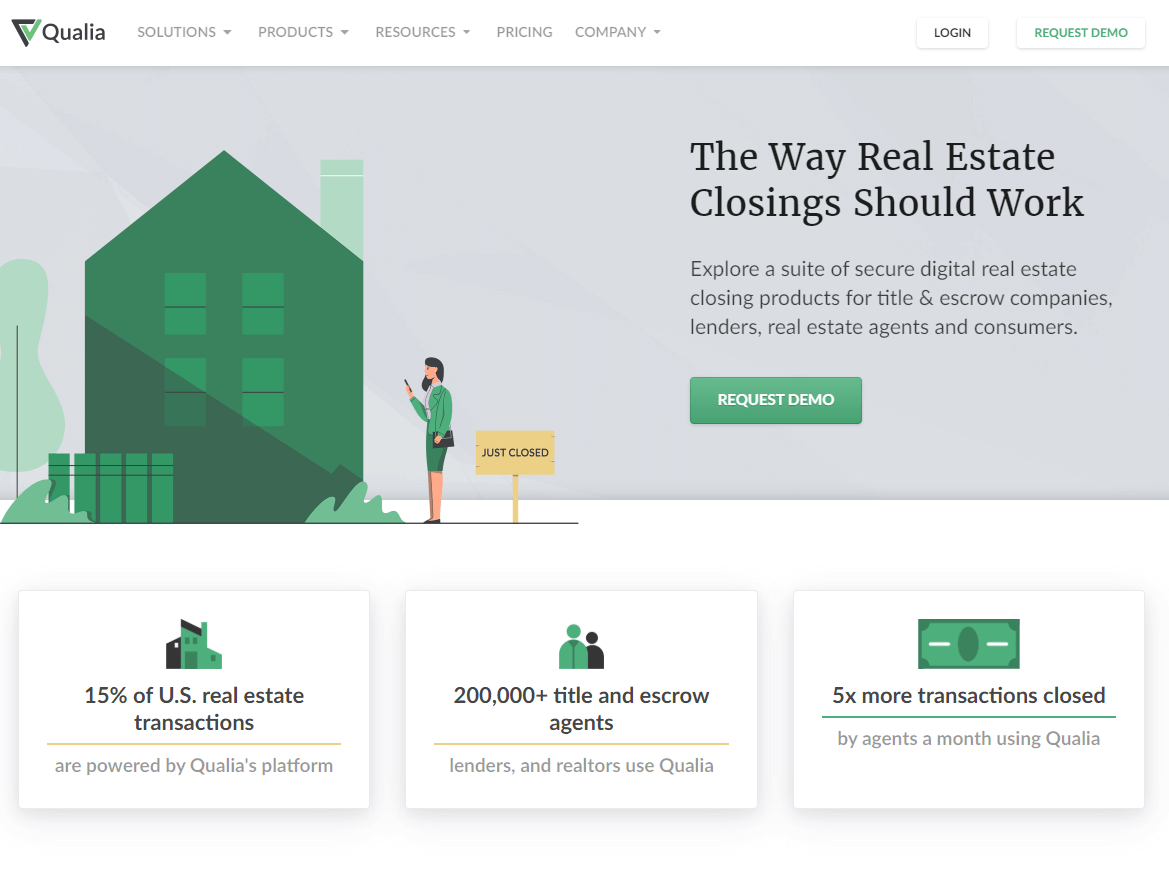 If you can think of any issues associated with managing a real estate team that haven't been solved by software so far, you might have found an opportunity for your business.
What Is Your Idea of Real Estate Software?
Now that you have an impression of the software landscape in the real estate industry, it is time to find your niche. Can your product or service make a difference in listing and search, lead management, market analysis, showcasing of the property, web/mobile extensions, or logistics? It's your job to find out.
We, in turn, are here to help you with the implementation of your idea. Rubyroid Labs have been building digital tools for real estate professionals since 2015, and we can pitch in with expertise that goes beyond technology — just contact us today.

We are sorry that this post was not useful for you!
Let us improve this post!
Tell us how we can improve this post?